Review of Garmin FR60 Heart Rate Monitor With Foot Pod and ANT Stick
Gear Review: Garmin FR60 Heart Rate Monitor
Ever since I started "listening to my heart" during workouts, I have been a Polar gal. But many FitSugar readers have expressed their love for Garmin heart rate monitors — especially the GPS/mileage tracking features on Garmin products.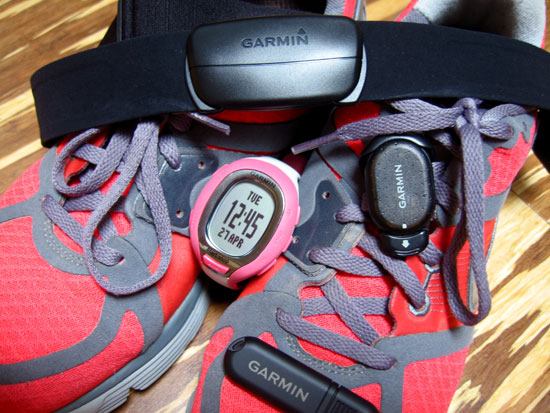 Garmin sent me the FR60 with foot pod ($199) to test out. The HRM monitor comes bundled with different accessories and mine came with a watch, chest strap, food pod, and ANT stick. The pink watch is cute and not too big, and the tiny foot pod, which doesn't need to be calibrated, claims to be 98 percent accurate.
There's nothing like testing out gear to motivate me to run. I must admit, me and my very cute pink watch started out a little rocky, but I do think it is a great piece of training gear. To read what I think about about the heart rate monitor, read more.
While the watch is rather feminine, the buttons are difficult to push, adding to my frustration as I set up my watch. Both the programming setup and the button configuration are not intuitive to me at all. For instance, when you press the large "Start/Stop" button at the bottom center of the watch, you enter a programming mode for the watch rather than starting the workout. This seems odd to me since I only wear this watch for exercising and don't need to change the time or date on the timepiece all that often. Also, to end a workout you don't press "Stop," this just pauses a workout. You need to hold the lap button for three seconds. But why not give the user a prompt once they press the stop button to either pause their workout or save it? That would seem easier to me.
Once I did figure out how to navigate the programming, the readouts on the watch are infinitely variable. You can pick what information you want to appear on five scrolling screens with up to three fields each. You can choose speed, distance, heart rate, heart rate zone, cadence, average cadence, calories burned, and on and on. You can choose for all these screens to automatically scroll while you're running or only change only when you press the up or down buttons. There is an auto lap feature and you can set the distance, or manually enter your laps with a (hard) press of the lap button. If you're the competitive type, you can race against a virtual runner. The choices are endless, and if you have the time it's fun to personalize your heart rate monitor.
The ANT stick is a handy feature, especially if you like viewing data of your runs. After loading the Garmin software to your computer (they have programs for both Macs and PCs — yay!) and plugging the ANT stick into a USB port, the foot pod and watch "talk" directly to your computer and upload all your stats. The system will even share information with a Tanita BC 1000 scale, which measures body fat along with weight.
The FR60 can be used both indoors and out. If you're into cycling, Garmin has a bike accessory ($60) that's compatible with the FR60. You can also use the heart rate monitor for "general fitness" to track just your heart rate and calories burned.
All in all, after a rough start, I have come to really like this Garmin system. What do you work out with? Tell me below.