Review of Giant's Escape 1 W-2011 Bike
Bike On: The Escape 1 W by Giant
Flipping through the latest issue of Bicycling Magazine, you learn the cyclists suffering through the Tour de France are riding some seriously pricey bikes. Just the frame and fork of the fancy Giant road bike for team Rabobank prices out to around $3000. But you don't have to drop so much dough to get a sweet ride by Giant. The company loaned me its new Escape 1-W ($500) for tooling about town, and I dig it.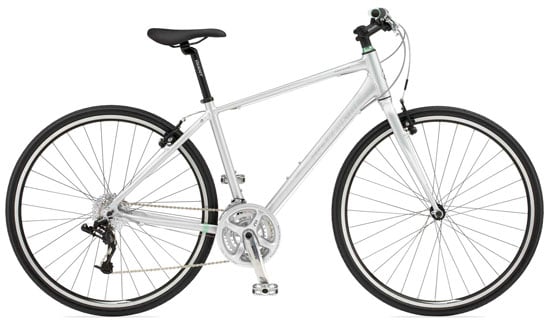 New to Giant's line of bikes, the Escape is a hybrid bike: a little road bike, a little mountain bike, and a little cruiser all pleasantly rolled into one. Like most cruisers, the bike has upright positioning so your line of sight is more forward than down making this a great bike for commuting. The handlebar stem is reversible, so you can choose how high or low you want the handles to be. Add to the upright positioning a total of 24 gears — an eight-speed cassette (the little gears in back) and three chainrings (the big gears, or cogs, in front). All these gears mean you can ride the Escape up some hills — another reason I would choose this bike over a classic cruiser. The shifters, mounted on the handlebars, are easy to manipulate, and the handles themselves are super comfy. Nice and wide, they're made out of supple rubber. The seat, however, is pretty stiff, which is actually better for riding (a too squishy saddle is bad for the back). The pedals are nice and big, making biking when wearing fashionable shoes, totally doable — sometimes a gal needs to bike in her heels.
What I like most is the detailing. There are small mint green accents on the silver bike. Even the underside of the seat has a bit of green, as well as the handles, head tube, and wheels. It's cute. My only complaint is that even though the frame is lightweight (made out of aluminum) the back end is a little on the heavy side, which isn't a problem unless you have to carry the bike up several flights of stairs. This is a great around town bike that would also work for light fitness on paved trails.
You can find the full specs on the bike here. Take one for a test drive by finding your local dealer.