Review of HikingYoga in San Francisco
Class Act: Hiking Yoga
The ancient discipline of yoga seems infinitely flexible, and while I mean that in the grandest terms possible, I am also thinking of the fitness trend of mixing yoga with other forms of exercise. There's yogalates, blending yoga with Pilates, and Koga, mixing kickboxing with asana. I recently checked out a new hybrid, HikingYoga, that definitely takes yoga out of the box, and by box I mean yoga studio. It's part urban hike, part outdoor yoga class, and part city tour; I went down colorful alleys I have never seen before.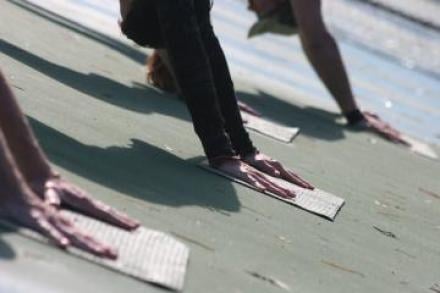 The 90-minute excursion ($20) had us climbing three of San Francisco's impressive hills, ending at the historical Coit Tower. Walking uphill for four long city blocks is a cardio workout in my opinion, and I could feel my booty working. Instructor and founder of the company Eric Kipp sprinkles four mini yoga sessions throughout each hike. Each of these yoga sessions builds on the previous one, moving from simple forward bends, progressing to triangle pose and lunges using park benches to stretch the hip flexors. The hikes end with 20 minutes of sun salutations using cropped mats to protect our hands from the concrete. There really is no better way to end a hectic day than doing yoga outside at sunset. The entire hike was peppered with historic facts about the city adding an educational element to the workout. The entire experience kept me thoroughly engaged in mind and body and is perfect for San Francisco natives and tourists alike.
HikingYoga is an exercise combination I definitely believe will be taking off. In fact, Eric will be helping a couple of yoga studios set up HikingYoga programs in other West Coast locations. Look for a class in your city or your next vacation destination.