Review of Icebreaker GT260 Leggings
Gear Review: Icebreaker GT260 Rapid Leggings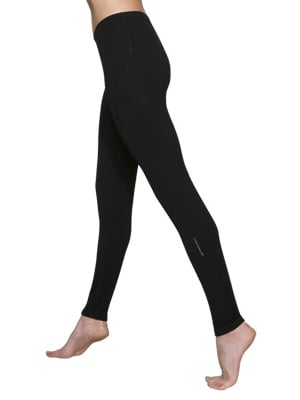 When it comes to working out or playing on the weekends, I'm an outdoors girl. Where I live, it never gets too cold during the Winter, but in Tahoe or Yosemite — my weekend getaway spots — it can be downright frigid. That's why I was stoked to try out a new pair of leggings on my Valentine's Day climbing trip.
Rock climbing when you're cold is not fun. It can be really difficult to get through a climb when your joints lock up or you have tight muscles because of chilly weather conditions, but you don't want to weigh yourself down with heavy clothes either. Keeping warm was really important to me since Yosemite was hit with some major snowfall in the last few weeks. As is the case with most Winter sports, layering is key. The GT260 Rapid Leggings ($78) that Icebreaker sent my way looked like they would be exactly what I needed.
To see what I thought of them,
.
Icebreaker's GT line was designed especially with people like me in mind. It's the most athletic and technical line the company has, and it's geared toward individuals who do a lot of cold-weather exercising or mountain sports like climbing, hiking, mountain biking, skiing, and trail running. Specifically, the 260 line is the warmest and most breathable of the high-performance GT line. Compared to the Helly Hansen leggings I usually wear, I immediately felt the difference when putting on the Icebreaker Rapid Leggings.
They're made from merino wool so they were exceptionally soft and warm from the get-go but not itchy like other wool leggings I've worn. My first experience climbing in them was wearing them under a pair of nylon capris on a pretty chilly Saturday morning. I felt insulated in the leggings but could still move around freely and never felt constricted. I wasn't hot in them either, which is really important to me when I'm exercising. During the times I was sweating from my climbs, the material stayed dry and almost had a cooling effect. I wore the leggings the entire weekend and they kept their shape, never got moist, and didn't smell gross either. (According to the Icebreaker website, the line is made from odor blocking materials, and you can go months without washing them.) I also wore the leggings under jeans and they didn't feel bulky at all. For those of you living in really cold conditions, these leggings would make a great everyday baselayer. There's also reflective branding on the leggings, which is helpful if you want to wear them alone for a run.
My only gripe with the leggings are the sizing. I tend to be a pretty true size medium, but on me, the leggings were way too long. If you do decide to invest in a pair, I would go for a size smaller than what you'd normally buy. Overall, they were great and delivered exactly what I needed. Based on this, I might get myself an Icebreaker hoodie next.