Review of the Kangaroo Bottle by Contigo
The Kangaroo Water Bottle That Doubles as a Wallet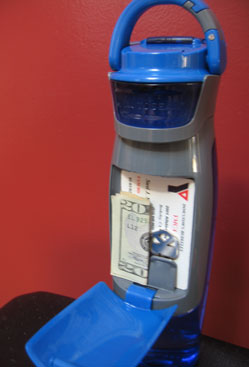 In love with the classic squirt top biking water bottle, my husband asked rhetorically if one could make a better water bottle? My answer was simply the Kangaroo Bottle ($13) by Contigo. While not designed to fit in a cycling water bottle cage, it has a bunch of great features.
Named for the pocket on the front of the bottle, the Kangaroo can hold your driver's license or gym ID, a key, and a small stash of cash. It's nice to eliminate the need to carry a wallet to the gym; just get dressed, grab your water bottle, and head to your workout. This is why I love taking my Kangaroo to the yoga studio, rather than leaving my purse in the car or at the back of the studio, all my "valuables" hang out with me by my mat.
The bottle also doesn't leak, which is great if it happens to be rolling around in your gym bag or the back seat of your car. To drink you press a button and the spout opens. For extra protection, the spout has a small lid that flips out of the way when you sip. I also appreciate the handle on the bottle, which has carabiner so you can attach the bottle to a backpack. Last but not least, the bottle is made out of BPA free plastic.
You can find Contigo products at these retailers or buy a Kangaroo online directly from Contigo. The bottle is also available in charcoal, turquoise, and fuchsia.