Review of Kashi Cranberry Walnut Fruit & Grain Bars
Food Review: Kashi Cranberry Walnut Fruit & Grain Bars
Is it odd to count a food brand as one of my best buds? Made with real ingredients, I find tasty Kashi products have become something I rely on, and I stash the company's bars in my purse, desk drawer, or gym bag — they make for great pre or postworkout snack to enjoy. If you're a fan of Kashi's TLC Fruit & Grain bars, check out this new flavor, Cranberry Walnut.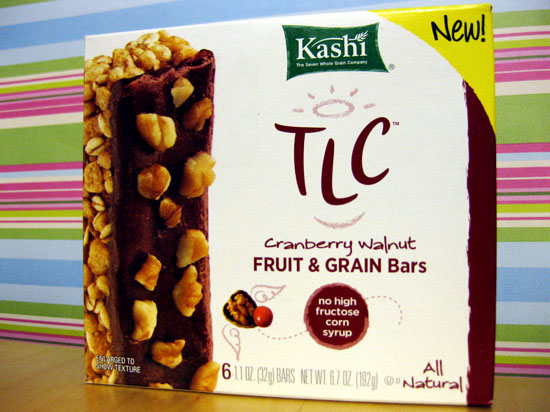 To find out what surprised me about this bar
.
Amazing! Four grams each of fiber and protein, and only 120 calories. It's also pretty low in sodium and sugars, but definitely not low in taste! The bold cranberry flavor is dessert-like, and seriously, I almost felt like I was enjoying a jam-covered cookie instead of a granola bar. I also love the contrast of the soft fruity jam topping with the crunchy chewiness of the granola bar. I am already a huge fan of this flavor, as they have become my new favorite go-to snack. The other flavors are equally as healthy, as you can see from the chart below. Which flavor appeals to you more?
| | | | | |
| --- | --- | --- | --- | --- |
| Serving size: 1 bar | Cranberry Walnut | Dark Chocolate Coconut | Pumpkin Pecan | Raspberry Chocolate |
| Calories | 120 | 120 | 120 | 120 |
| Total Fat (g) | 3 | 3.5 | 3 | 3 |
| Saturated Fat (g) | 0 | 1.5 | 0 | .5 |
| Cholesterol (mg) | 0 | 0 | 0 | 0 |
| Sodium (mg) | 50 | 50 | 50 | 50 |
| Carbs (g) | 22 | 21 | 22 | 21 |
| Fiber (g) | 4 | 4 | 4 | 4 |
| Sugars (g) | 8 | 7 | 8 | 7 |
| Protein (g) | 4 | 4 | 4 | 4 |
| Iron (%) | 6 | 6 | 6 | 6 |