Review of Lilypond Gym Bag
Gear Review: Lilypond Gym Bag
It's essential to have a bag devoted purely to going to the gym. That way you can keep all your workout gear clean, organized, and all in one place. If I didn't have it all in a single bag, I'd waste time searching around the house for my heart rate monitor, headphones, and wicking socks.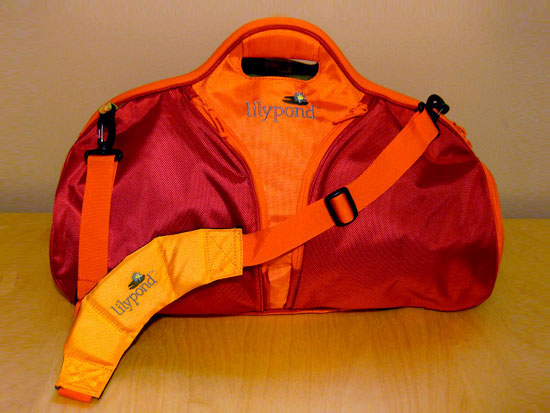 I feel a good gym bag must be equipped with tons of separate compartments for organizing your essentials, and this philosophy makes me a big fan of the Lilypond Sundown Weekender/Gym Bag ($89). It's a roomy bag loaded with big zippered pockets for all your fitness needs. Just how many? To find out and see some more pics of this gym bag, keep reading.
On the outside of the bag, there are two huge pockets where I like to keep smaller items I can easily grab such as snacks, keys, my gym pass, and tissues. There's another zippered pocket on the other side that can be used for other small items such as a cell phone or wallet. I love that this bag opens wide when you unzip the top zipper, which makes it easy to find and grab what you need. Inside, you'll find two more zippered compartments on one side of the bag, where I keep undies, socks, and my sports bra. On the other side, I use the one big zippered pocket for my sweaty outfit post-workout. For big things like your clean workout clothes, swimsuit, towel, and water bottle, use the huge compartment inside. I love that there's a separate spot where you can put your sneakers so the rest of your stuff doesn't get dirty and sneaky. And another bonus feature is the straps on the bottom of the bag to hold your yoga mat. Honestly, there's nothing you cannot fit into this bag.
Check out the gallery to see more photos of the bag, and the other colors it comes in.