Review of Look Cycle Keo Blade Chromoly Pedals
Gear Review: Look Pedal Keo Blade Cromoly
Biking is a gear heavy sport, and gear with carbon fiber is often coveted by cyclists because the fiber is lightweight, yet sturdy, shaving ounces off frames, seat posts, and cranks. When you're climbing long steep hills on a two-wheeled machine, it seems like you can feel every ounce as you pedal against gravity's pull. Carbon fiber holds an idealized spot for cyclists, and any gear made with it often holds a hefty price tag. Sometimes you can feel the difference, and frankly, sometimes you can't.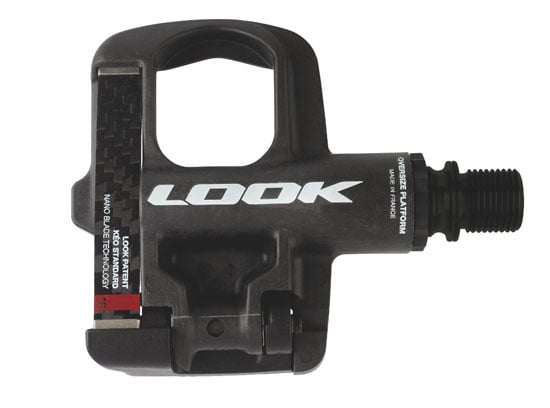 Look Cycle, a cycling company associated with pedal innovation, sent me a set of its new carbon fiber pedal: the Keo Blade Cromoly ($319). The axle is made of cromoly, a steel alloy, but Look makes a fancier version with a titanium axle too. Designed to be lightweight and safer, these blades come with a hefty price tag — but are they worth it? Read on to see.
Holding the chunky angular pedal, I was surprised by its lightness. The pedal set weighs in at 298 grams — a little over 10.5 ounces — including hardware. Even though featherlight, the Keo Blades provide a greater surface area for your foot than standard Look-style pedals. The difference feels huge. I felt more connected to my bike, making it easier to pedal standing, and my feet feel less fatigued on long rides too. I have to admit I was kind of shocked at how much better these pedals felt on my feet. The larger pedal also makes for better power transfer; meaning the energy of your pedaling transfers more directly to powering the bike. This is a good thing.
The Keo Blade is also marketed as easier to clip in and out of, making the pedals safer. If you have ever fallen trying to clip out you'll understand why this is a bonus. To me, clipping out will always feel a bit awkward and unnatural, and these pedals were marginally easier to clip out of, but when you clip in they make a satisfying snap.
Is a lightweight pedal that makes my feet happy worth all the money? I am not sure. But knowing the Tour de France winner Alberto Contador rides the $500 version of these pedals with a titanium axle makes the Cromoly Blades seem like a steal.