Review of Lululemon No Limit Tank Top
Gear Review: Lululemon No Limit Top
I don't usually get very fancy with my yoga clothes. A fitted tank with a built-in sports bra is my usual go-to top. It keeps my girls covered and in place, and the fitted body stays put when I go upside down. But some days you ate too many cookies you just don't feel like wearing something tight. You could sport a loose shirt but it doesn't offer the most flattering look, and as soon as you start moving, it can end up exposing your belly even more than a tight tank. Enter the Lululemon No Limit Tank ($64). Sexy is the first word I thought when I saw it, but when I tried it in a yoga class, functional was the second.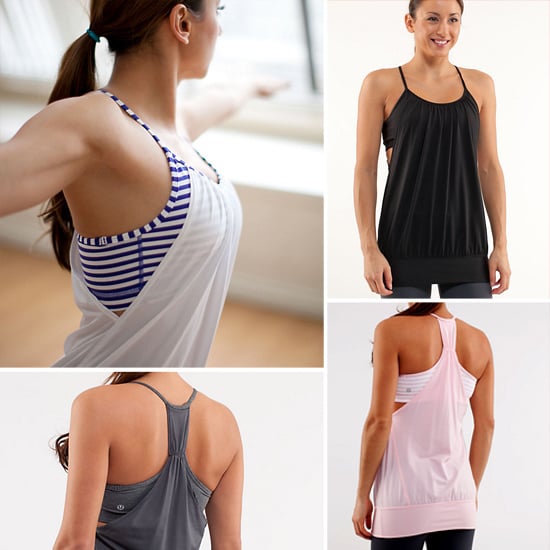 Keep reading to hear more details about this unique Lululemon tank.
This tank is basically a supportive sports bra (with removable cups to add shape and extra support), with an ever-so-slightly-sheer tank attached. As you can see from the photo, the sides are open, which allows for a little sexy skin exposure while also keeping you cool and comfortable. I assure you that as I moved, I remained tactfully covered, and at no point in my practice did I feel like I was showing too much skin, even when doing inversions. The wide band at the bottom sits snugly on the hips, keeping the tank in place.
The fabric feels divine. Soft, smooth, seamless, and even through a super-sweaty class, I stayed completely dry. I love that the fabric absorbed my perspiration and didn't stick to my skin. The racerback style is extremely supportive, and the scoop neckline kept my cleavage concealed. I would definitely recommend this top for low-impact exercise, because we could all use a little sexy with our functionality. I have it in the pale pink shown in the lower right, but I just might have to splurge and choose from the nine other amazing color combos.