Review of Merrell Siren Sport Gore-Tex XCR Shoes
Gear Review: Merrell Waterproof Hikers
If it takes more than a little snow or cold weather to keep you from hitting the trails, then have I got a shoe for you. Merrell sent me a pair of Siren Sport Gore-Tex XCR trail running/hiking shoes ($100), and my feet are in love. Not only are they adorable and sleek enough to wear with casual jeans (not bulky or manly looking), but these weatherproof sneaks also impressed me on the trails.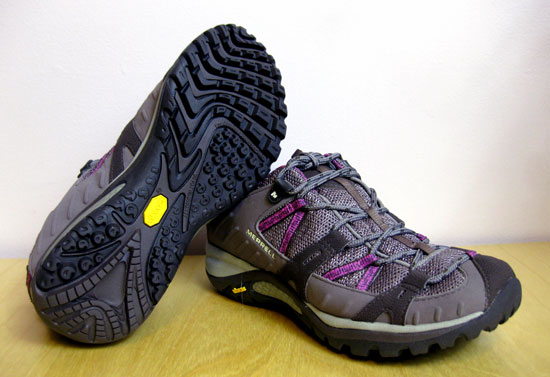 I wore these babies while walking on icy roads and hiking and running in woods with trails covered with a couple inches of snow. You can see from the photo that the soles are rugged and durable, so these shoes held up well on uneven terrain. They felt solid and safe on slippery surfaces too, but the best part — these trail runners kept me warm and dry, which is imperative when exercising in the cold. Another great feature is that these shoes have great arch support and the heel cups hugged the backs of my feet, so they felt comfortable yet sturdy.
To hear more about these shoes and find out what other colors they come in, just read more.
The tongue is attached to the actual shoe, which keeps out snow, but it was a little bulky. I'd definitely recommend wearing a sock that's slightly cushioned so you don't get unnecessary rubbing on the top of your foot. Another thing I noticed is that the laces are really thin, and I expected them to be thicker. It makes the shoe look more feminine, but I worry about them breaking down the road. Not a biggie though, since laces can always be replaced.
Even though these shoes have performed amazingly in the cold weather, I'm looking forward to wearing these for Spring and Summer hikes as well. The Gore-Tex will keep my feet dry in case I slip into a stream or while trekking through mud, but the material is also breathable, so my feet won't get super sweaty. Plus they're unbelievably lightweight, so you practically forget you're wearing them. If you're not a fan of this tan/pink combo, they also come in light gray, dark tan, light tan/orange, and dark gray/blue.