Review of MixMyGranola Make Your Own Granola Mix
Food Review: MixMyGranola
I've been hearing a lot of buzz around MixMyGranola (starting at $5 for 16 oz.). Stylist Rachel Zoe and granola lovin' Whitney Port are among its fans, and it was recently mentioned in the New York Times.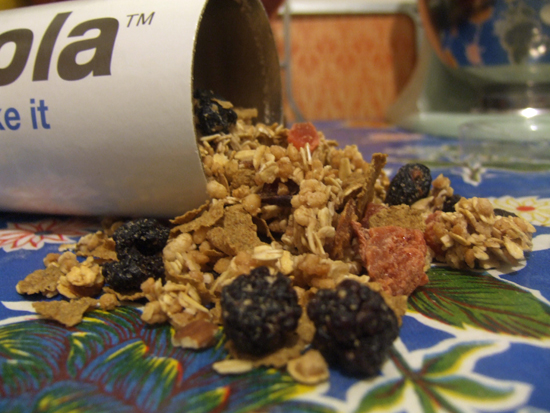 MixMyGranola allows customers to create their own granola or muesli mix via its website. You start with one of the six granola bases like lowfat, cinnamon, or organic gluten free, and from there add any of the 79 different ingredients to your base. The ingredient choices include dried fruit like blueberries and goji berries, nuts and seeds like almonds and flaxseeds, nutritional power boosts like acai powder and bee pollen, and extras like sesame sticks and coconut flakes.
To hear what mix I made and how it tasted,
.
When making my mix I settled on these ingredients: lowfat granola, dried strawberries, dried blackberries, dried Bing cherries, organic flaxseeds, oatbran flakes, and organic pomegranate powder. I admit that I went a little overboard with ingredients, which greatly affects the cost — $12 in total. But you can easily get a granola mix that has a bunch of different ingredients for about $8, or even as low as $5 if you want something more basic. The package is pretty big, too, so I felt like I got a lot of granola in the end.
As far as taste goes, it was great. The granola was crispy and had just the right amount of sweetness, and I especially loved the puffed rice that was used with the rolled oats. The dried fruit was plump and it tasted like actual fruit, not super sugary gummi candy like a lot of dried fruit can taste. Although my mix was a bit pricey, it was fun to be able to make my own blend, and I think this would make a great gift idea. My mix was also low in fat and calories — check out MixMyGranola's nutrition label below.
If you're not feeling creative, the company also offers 20 pre-mixes like the Runner's, Help Haiti, and Super Duper Detox mixes. The pre-mixes range in price from $6.99 to $10.99.