Review of Mizuno Meridian Running Shorts
Gear Review: Mizuno Meridian Running Shorts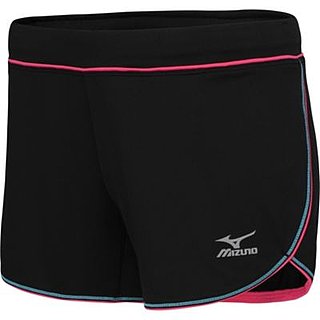 I love a good pair of cute track shorts to liven up my runner's wardrobe, so when we received a few pieces from Mizuno's new Inspired running collection I was especially happy to test out the stylish pink-trimmed Meridian Running Shorts ($40).
After a few treadmill runs and a cool-weather 12K race, I am not just a fan of how they look, but also how they feel. Weighing about 9 oz., the shorts were so lightweight and soft that they were a pleasure to run in, and the moisture-wicking material kept me comfortable (and quickly dried after running through a sprinkle of rain).
Read the rest of my review of the Meridian Running Shorts after the break!
The 3.5-inch inseam shorts are a blend of polyester and eight percent Spandex in Mizuno's SlimFit style, which conforms to the shape of your body, but what I liked about the cut was that it wasn't too restricting. There was still plenty of room to move around without feeling like I had too much weighing me down.
The drawstring ties on the inside, which kept it neatly in place, and after tying it once I never had to worry about it — it stayed tucked away and didn't loosen even during my hardest sprints. There's also a small coin pocket in the inner seam, which is useful if you need to stash a small amount of cash, but I wished it were a tiny bit larger so it could fit my apartment keys better when I am running outdoors.
I usually run in a pair of capris, pants, or leggings, but I loved these shorts so much I can see them getting a lot of use this Summer!
Meridian Shorts are available in black with fuchsia and purple accents.