Review of New Balance 710 Women's Shoe
Gear Review: New Balance WX710 Cross-Trainer Shoes
When it comes to working out, I like to be outside. For outdoor runs I wear my Lunar Glides, and when I'm trekking in the mountains I stick to my Nike Wildedge approach shoes. Unfortunately, getting an outdoor workout isn't always in the cards, in which case, I hit the gym near my office. Since I don't like lugging around a lot of stuff and I'm pretty non-committal about what piece of gym equipment I use, I wanted a light and versatile pair of gym sneakers. It also made sense that they shouldn't be too pricey since they weren't going to be my primary kicks. So when New Balance sent me a pair of its WX710 cross-trainers ($60), I was stoked to try them out.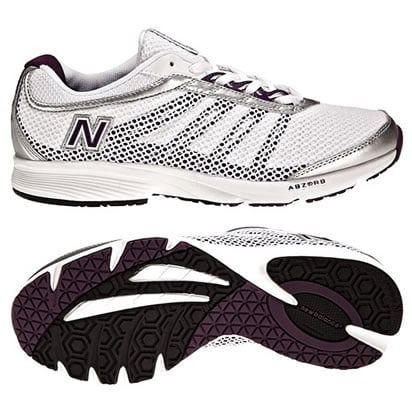 These shoes are light, way light. At 7.6 ounces per shoe, they weigh less than any sneaker I've owned and I barely even feel them in my bag. Apparently, the cushions of the shoes are made with a patented foam that's 12 percent lighter than other foams on the market. Weight seems like a small point to make, but when you're lugging around workout clothes, a laptop, and stuff from the office, every ounce you can shave off counts. And with all the caps on baggage allowances these days, I'm definitely making these sneakers my go-to fitness shoes for traveling.
To see what I liked and didn't like about these shoes,
.
I'm not going to lie, these are not the cutest looking shoes. I've never been a fan of white sneakers and these have that sort of generic '90s gym shoe look that I hate. But I'm not at the gym to look good so I got over how bright they were pretty quickly. They fit well and provide support in all the right places without feeling too cushiony or soft, which is a plus. I definitely am the type of person who likes to still feel my foot working inside of my shoes. Also, the lightness of the shoe really came into play while working out on the stationary bike because I didn't have a heavy foot weighing down the pedals. They have good traction too — there was one day in particular that I rode the bike without pedal buckles and my feet didn't slip off once. On top of that, the mesh is pretty breathable so my feet stayed nice and cool during my workouts.
While I wouldn't recommend these shoes for running — I think your feet will feel too vulnerable in them — they make a good all-around gym, strength training, or walking shoe. If white is not your thing, don't worry, they come in silver and black too.