Review of Nike Rebel Sports Bra
Gear Review: Rebel Sports Bra by Nike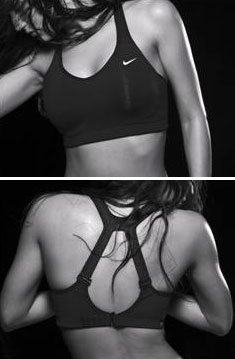 As a runner with a not-so-tiny chest, I'm always on the hunt for a more comfortable, more supportive sports bra. When I heard about Nike's new Rebel Sports Bra featuring several new, supportive features, I had the company send me one to test out. The Rebel is designed to "deliver the benefits of an underwire bra without the wire," and promises vertical, horizontal, and surround support in four areas: chest band, cups, shoulder straps, and wings.
Remembering the size small Nike sports bra I still squeeze myself into on occasion (hello, uniboob), I opted to test out a medium. Because I have an exactly 33-inch ribcage, I toggle back and forth between wearing 32-inch and 34-inch bras. And while I'm not too busty, I do have trouble squeezing into a cup-less sports bra, especially the aforementioned Nike model. Unfortunately, the Rebel seems to run truer to size, and was a tad on the large side. Luckily, both shoulder straps and the chest band are adjustable, so after hooking each to the smallest possible size, I felt supported enough to tackle a five-mile run.
Learn the verdict on the Nike Rebel when you keep reading.
The bra is made from Nike's Dri-FIT fabric, which I appreciate. One of my test runs was on an especially muggy afternoon, and the bra kept me happily comfortable. The back is slightly different from other sports bras I'm used to; there are two separate and adjustable shoulder straps. I didn't think I'd like the design, but the fact that the straps are easily adjustable was a huge plus for the Rebel. The downside: because I had to adjust all of the straps to a smaller size, the neckline rode up a little too high on my shoulders and neck. When I tried a second run with the straps slightly lower, the bra didn't provide enough support.
The Verdict: I'll definitely continue wearing my Rebel bra for short runs, and will likely invest in a second (size small) for longer runs. Besides the sizing frustration, I found the material to be soft, comfortable, and breathable. If you're in the market for a high-impact sports bra, the Nike Rebel may be for you — just be sure to give it a thorough try-on before you buy!
Tried any new gear you love? Share the deets in the Good Bear/Bad Gear community group.