Review of Nike+Armband For iPhone
Gear Review: Nike+Armband For iPhone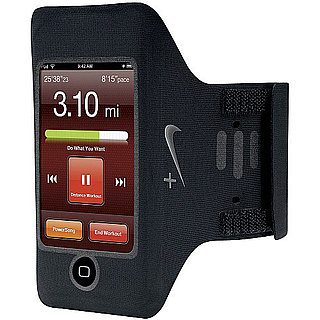 Full disclosure: I am not a huge armband fan; I much prefer clipping a smaller iPod Nano or Shuffle to my shoulder during a run or other workout. But, after becoming addicted to music-streaming service Rdio, which requires a 3G or Internet connection to work, I decided to hit the treadmill with my new Nike+Armband for the iPhone ($34).
The arm band itself is extremely lightweight and made from nylon and spandex. It fits your phone very snugly; the only openings are for inserting the phone and attaching headphones. Volume and power buttons are covered by material but labeled appropriately. The front is made of a thin layer of plastic for access to the phone's screen and home button. The armband is thin and lined with velcro. Find out what I thought about it after the break.
At first glance I was worried the excess armband material would get in my way, but the band was surprisingly comfortable. I wear short-corded headphones to run, so I had to wear it fairly high up on my arm, but I had a normal range of motion even as it was attached to the headphones. The volume controls were a little harder to find while I was running, and I seem to be one of those runners that enjoys changing songs and volume as they go (not recommended). The plastic on the front of the armband is thin enough to not create trouble using the phone's screen, which was surprising. And, while my arm did get sweaty underneath it (whose wouldn't?), it stayed in place through five miles. The band washed easily in cold water (I hand washed it per the directions) and dried quickly. I'd certainly recommend this armband to other iPhone users, and will probably wear it again myself — just not all the time.
One note: the armband is designed to work with an iPhone 3GS, so iPhone 4 users would be better suited with another option (I recommend the Belkin FastFit Arm Band, which has similar construction). It's currently out of stock in the Nike store, but you can pick up this item at plenty of other retail outlets.