Review and Nutrition Facts For Peanut Butter and Chocolate Energy Bars
5 Peanut Butter and Chocolate Bars Compared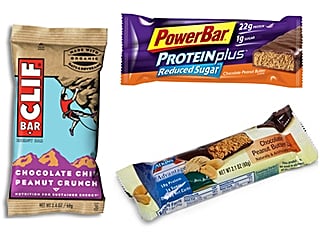 I aim to eat fresh real food whenever possible, but early morning workouts and a rushed commute to work means I occasionally reach for energy bars on the go. My flavor of choice is peanut butter and chocolate (because how could you not love the salty and sweet combo?!) and I've tried more varieties than I care to admit. Some are protein-filled and a delight like candy, and others taste like cardboard. It's hard to pick a winner, but my recent go-to has been the Think Thin Chunky Peanut Butter Bar, which packs 20 grams of protein and no added sugar but somehow satisfies my sweet tooth.
Are you a choco-nut too? Check out nutritional breakdowns and reviews of some of other popular choices.
Clearly, everyone's tastebuds, energy bar expectations, and needs differ. While bars are a handy option when you are in a pinch, replacing a meal with an energy bar isn't necessarily a good idea. Be sure to share your favorite brand in the comments and let us know what you like about it.