Review of Pearl Izumi Barrier Convertible Jacket
Gear Review: Pearl Izumi Barrier Convertible Jacket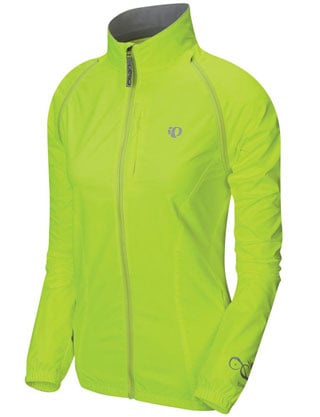 No matter how understated your fashion sense, once you hop on a bike, you want to your clothes to speak — or rather, shout out your presence. I know the styles of cycling are none too pretty, but unnatural neon colors make you highly visible on a bike, making them a must wear. Since two-wheeling is no time to be inconspicuous, I am loving my new screaming yellow Pearl Izumi Barrier Convertible jacket ($100).
The company sent me one to test, when I contacted them about gearing up for bike safety this Fall. Since Summer in the SF Bay Area is as cold as most of our Winters, I had plenty of opportunities to test out this windbreaker. In a phrase: it works well.
Here are the features, aside from its glaring color, that I really appreciate when in the saddle:
Pockets: I love pockets and this jacket has plenty. Two zippered pockets in the front, and one at the chest that fits my iPhone. There are three open mesh compartments on the inside of the back of the jacket.
Zip-off sleeves: This jacket easily converts into a vest and the sleeves fold nicely and fit into the back pocket of your jersey. This two-for-one feature makes this Barrier Convertible perfect for long Autumn rides.
Vents: You don't overheat when climbing in this jacket since it has many well-placed vents.
Washable: The jacket washed up really well — no residual stink, no big wrinkles.
If screaming yellow is not your thing, the Barrier Convertible jacket also comes in black, white, red, and bright blue. Take advantage of REI's Labor Day Sale; this jacket is marked down to $75 now through Sept. 6.
Review your gear in the Good Gear/Bad Gear community group. We'd love to hear your opinions, both good and bad, of your latest fitness purchase.