Review of Pearl Izumi Trail Running Sneakers
Gear Review: Pearl Izumi Trail Runners
If melted snow and warmer weather have inspired you to hit the woods running, you're probably in the market for some new rugged sneaks. If so, check out these Pearl Izumi Peak XC trail runners ($115).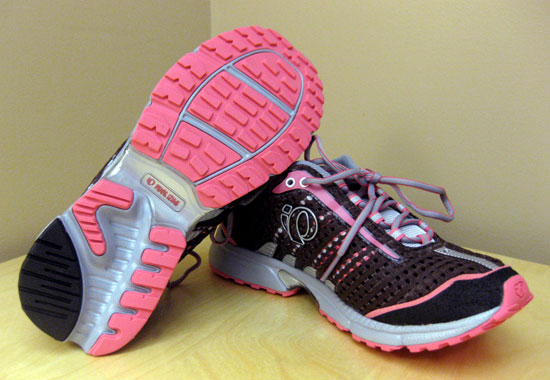 Saying these sneaks are lightweight is an understatement. You hardly feel like you're wearing anything at all since the pair combined only weighs 8.2 ounces. The mesh material makes them breathable, but the fabric is also durable enough to avoid abrasions from sticks and rocks. I had a lot of traction on uneven and slippery terrain, all because of the rugged sole. This shoe is extremely flexible, so you'll love them if you're not looking for a sturdy frame. From my experience, I'd say they're also meant for runners who don't need a lot of arch support, those looking for a more barefoot running experience. If safety is important to you, there's reflective material on just about every part of the shoe. So, if you run at dawn or dusk, you'll be more visible.
Another plus is the color. Most trail runners I've worn have been light gray or tan, and mud easily shows up on them. Brown is perfect for me, but if you prefer, they also come in black or hot pink. Order a half size bigger than you normally wear, as these sneaks fit pretty snug.
To see other photos of these trail runners
.