Review of Pearl Izumi W Drop Tail Bib For Cycling
Pearl Izumi Biking Drop Tail Bib Kind to Your Belly and Bum
My hubbie has been singing the praises of his riding bib for ages, but I just couldn't get over how goofy it looked. Something about adding straps to spandex shorts just doesn't appeal to my fashion sense. But is there anything truly fashionable or attractive about biking shorts? Pearl Izumi sent me a women's Drop Tail Bib ($130) to road test and see if my adverse feelings toward the bib style could be improved. After many rides wearing the bib, I must say it's my new fave.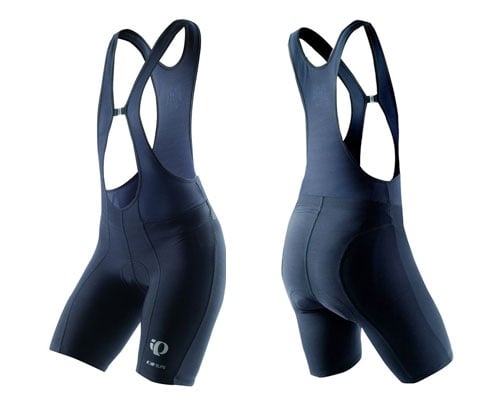 To learn why
.
The shorts feel good on. The fabric provides a nice amount of compression and the leg grippers are easy on the thighs; in fact you don't really feel them. As for the chamois, it's plush making it great for long rides. The bib action means that the elastic at the waist is really forgiving, no binding as your lean forward onto your drop handlebars. The trade off is shoulder straps. When biking I tend to wear a really loose and comfy sports bra, so the double straps didn't bother me. Neither did the small clasp the pulls the straps together mid-chest. I am not busty but am long waisted leading me to worry that the straps might feel to short, but they don't. The bib seems true to size. I am pretty much a classic medium and the medium-sized bib felt just fine.
The benefit of the drop tail eluded me for a while, but I soon learned it is for potty break convenience. Without the drop tail, you would have to remove the entire suit for bladder relief. But the back of this bib is a separate piece of material, so you can drop your tail, so to speak, while staying suited up. This is a wonderful convenience for long rides. You do, however, need to remember to tuck the tail into the back of your shorts so it doesn't flap in the wind.
I think I just might be a bib convert. Make no mistake, this is a pricey piece of gear, but if you log long miles I think it is worth the investment.