Review of Peeled Snacks Unsulfured Dried Fruits
Food Review: Peeled Snacks
After researching sulfured vs. unsulfured dried fruits, I realized that it's healthier to go for the ones without the sulfur dioxide. If you have a hard time finding dried fruit made without this chemical preservative, check out Peeled Snacks.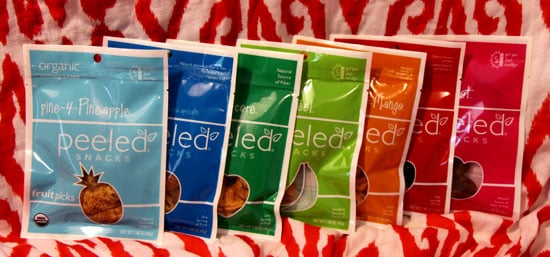 This company sent me a whole array of its dried fruit snack packs to try and I was pleased to see that most of them are unsulfered and organic, and all of them are completely sugar-free. To see how they taste and get a closer look,
.
First off, I love that they name their dried fruits — pine-4-Pineapple, Apricot-a-lot, much-ado-about-Mango, and Cherry-go-round are just a few of the clever names, which make eating these snacks feel like more fun. I love the colorful bags too, although I don't love that serving sizes are individually packaged, since it's not very eco-friendly. I bet others will appreciate the single-serving portions though, since it'll make keeping track of their daily calorie consumption much easier.
Now on to the taste. I had to try the unsulfered apricots first, since I was used to buying the sulfered variety. Surprisingly, they tasted even sweeter than the sufured ones, almost like molasses. I was blown away by how rich the flavor was, not only in these unsulfered apricots, but in the other dried fruits as well. The texture was very moist and chewy, but honestly, I could not get over how strong the flavor was. I felt so much more satisfied after eating just a few of these fruits than I have eating an entire container of other brands. If you're a fan of dried fruits, I'd definitely try this brand. If you're curious about the nutritional info, check the chart below.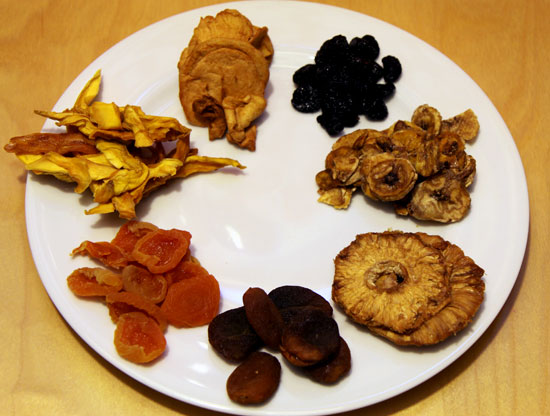 | | | | | | | |
| --- | --- | --- | --- | --- | --- | --- |
| Dried Fruit | Calories | Total Fat (g) | Carbs (g) | Fiber (g) | Sugars (g) | Protein (g) |
| pine-4-Pineapple (organic, unsulfured) | 140 | 0 | 36 | 1 | 32 | 1 |
| CApricot (sulfured) | 100 | 0 | 25 | 3 | 15 | 1 |
| Apple-2-the-core (organic, unsulfured) | 110 | 0 | 27 | 3 | 20 | less than 1 |
| Banan-a-peel (organic, unsulfured) | 150 | .5 | 38 | 2 | 25 | 1 |
| much-ado-about-mango (organic, unsulfured) | 120 | 0 | 28 | 2 | 20 | 2 |
| Cherry-go-round (unsulfured) | 130 | 0 | 30 | 4 | 24 | 2 |
| Apricot-a-lot (organic, unsulfured) | 110 | 0 | 26 | 3 | 22 | 2 |