Review of Petzl Elia Helmet
Gear Review: Petzl Elia Helmet
Since I started rock climbing I've been pretty loyal to my Black Diamond helmet. But when Petzl contacted me about a new helmet they were making especially for women, I was intrigued. As far I know this is the first rock climbing helmet made just for us girls.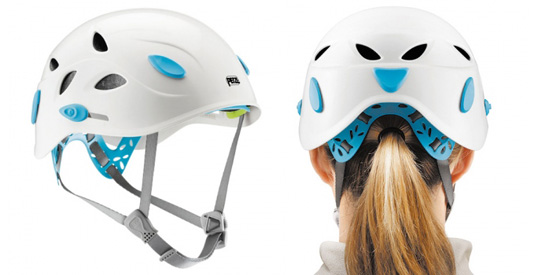 Generally speaking, the Petzl Elia ($65) is a solid buy: it's durable, comfortable, and lightweight. It also has protective inner pads, is reasonably priced, and has clips to hold a headlamp. From a female perspective, this helmet rocks! First off, the size of the helmet (52-58 centimeters) is adjusted by two sliding levers on each side of the helmet. This is very different from other rock climbing helmets that are adjusted by turning a dial that is found on the back. What this means is that my hair will no longer get caught, twisted, and pulled out — what a relief. Even more exciting is that there is a slight cutout along the back of the helmet that allows for a ponytail. This might seem like a silly detail, but for any of my fellow ponytailing climbers out there, this is HUGE news. My helmet fit nice and snug without smooshing down my ponytail in the process. Another note of interest is that the Elia has a lower profile than other rock climbing helmets, which was cool because I had a bit more clearance while I was climbing.
To hear my final word on the Elia,
.
Perhaps the only thing I didn't like about this helmet was the "one size fits all" factor. Though it did fit snug on my head and I felt protected, I do think that my old helmet feels a little more secure and tight when I am wearing it. That being said, I am still sticking with the Elia. All the women-specific features really make it a worthwhile investment. Not to mention it comes in some cool color combos too: blue/pink, gray/yellow, and white/blue.