Review of Pilates For Beginners DVD Featuring Kristin McGee
DVD Review: Pilates For Beginners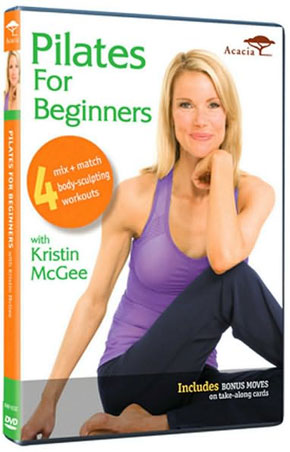 It's probably pretty obvious by now that I'm quite a fan of Pilates. I've tried to coax many friends (ahem, mom) who want to try it but are intimidated by large classes and don't want to pay for private lessons. Now, there's no excuse. Pilates expert Kristin McGee has a new Acacia DVD with the straightforward title Pilates For Beginners ($14). After a quick 10-minute warm-up, Pilates virgins will have the confidence to take on the rest of the exercises daily. They can feel the comfort of their own home while getting used to the basic exercises. For those who are more advanced, it is still a useful video as you can add your own challenges and almost guarantee a burn in the bod.
Included in the DVD are two 10-minute and two 20-minute segments. The 10-minute Core Warm-Up and the 10-minute Core Connection can help ease newbies into the exercises while both offering even experts the opportunity to burn their core muscle groups with teasers, planks, sawing the toes, and simple oblique twists. When time isn't an issue, the longer 20-minute Foundation Work and Strong Backside sessions are simple enough yet challenging. They include scissor kicks, the 100s, and other basic Pilates moves. The ultra-thin Kristin McGee explains all the stretches and motions in great detail, which helps to ensure safe execution. Additionally, she tells viewers how to make it harder or easier depending on their skill levels. And more importantly for novice users, she also gives ample time between the exercises for home users to rest and stretch.
To learn more about the video and see what I would change, read more.
For beginners just starting their adventures in Pilates, this video offers a great starting point. My only complaint is that new students need to be reminded of their breathing patterns as the inhaling and exhaling moments are crucial to the exercises' effectiveness. Once the breathing patterns are learned, however, it is nice to be able to exhale as loudly as one wishes in their own home.
Also included in the DVD is a Pilates tutorial, a 10-minute abdominal and glute workout, and a five-minute Pilates weight-loss segment. The tutorial is almost essential for those brand-new to Pilates and a good idea for those who need to dust off their mat. The glutes and abs session is certainly not Pilates-centered, but I won't complain about a rear-end tutorial — I felt the sting and appreciated the change of pace after my leisurely mat exercise. Finally, the five-minute Weight Loss Pilates bonus is a good way to add some oomph to a 30-minute workout. All in all, I would definitely recommend this DVD to someone interested in the Pilates practice. At $13, it costs less than a drop-in session at a gym, and if it converts the viewer into a believer, it will earn its worth in one day.