Review of Power Foods Cookbook by Editors of Whole Living Magazine
Cookbook Review: Power Foods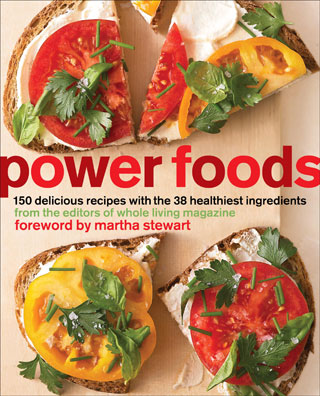 If eating healthy is one of your goals for 2011, I suggest investing in some quality cookbooks to enhance your culinary experience. Flipping through recipe books always inspires me to pull out an apron and get to chopping. The new cookbook Power Foods ($25) will certainly have you sharpening your knives and preheating your oven. Written by the editors of Whole Living Magazine, the cookbook educates while it motives. A quintessential health-food cookbook, the pages are filled with recipes featuring 38 potent ingredients. Just because the nutritional properties of the ingredients were the most important criterion for their inclusion doesn't mean that the 150 recipes included in the book skimp on taste. The bold photos of each recipe capture the flavor of each dish and the soon-to-be cook's imagination.
The 38 power foods that made the cut to be included in the cookbook are high in: vitamins, minerals, phytonutrients, essential fatty acids, fiber, and more. It's not surprising that avocados, broccoli, and salmon made the list, but you'll find recipes for sweet potatoes, sable fish (high in omega-3 fatty acids), and pistachios. Power Foods is part reference book too. Each power food is given an informational page listing its health benefits, which are cross-referenced with recipes featuring the ingredient — handy! There's also a section in the back on how to use these power foods to combat different health issues like arthritis to hypertension.
The recipes are easy to follow and tasty. I recommend the roasted Brussels sprouts with shallots and pears. Yes, roasting pear with Brussels sprouts adds a whole new flavor dimension to the dish. You can purchase the book at Amazon.