Review of Power Pilates Class at Sports Club LA
Class Act: Power Pilates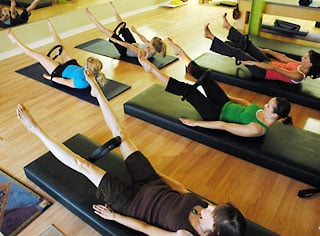 In my experience, if the word "power" appears in the title of a fitness class, be it yoga or weight lifting, be prepared for a challenging workout. My expectations were in no way dashed when I tried Power Pilates at Sports Club LA recently. This was definitely a Pilates mat class on steroids. Classic moves like the 100s and single leg stretch definitely made an appearance, but only after many, many upper ab cruches. The class featured high repetitions, which is not common in traditional Pilates classes. The class began using a ballet barre for moves reminiscent of the Dailey and Bar methods, and then moved into a twisting lunge sequence away from the support of the bar. The instructor called this challenging exercise series, which worked the obliques and the glutes, part of her "muffin top project."
We used the old-school magic circle, a classic Pilates prop also known as a toning ring, for both arm work and leg work. Push-ups with a wide variety of hand positions peppered the class. And these weren't careless and quick push-ups, but the slow, painful, methodical kind.
I really enjoyed the class and appreciated the challenge. It's nice to see Pilates concepts, like alignment and deep ab engagement, meld with more traditional moves from toning and sculpting classes. Two days post-class, my abs and glutes are still feeling the challenge. Have you tried a Power Pilates class? Share your opinion below.