Review of The Ranch at Live Oak Malibu
How the Other Half Sweats: The Ranch at Live Oak/Malibu
It's dark when I receive my wake up call, which isn't really a call but a staffer gently calling my name and playing sweet sounding chimes at my door. The time is 5:30 a.m. Waking early is just one of the lifestyle changes you experience during a seven day stay at The Ranch at Live Oak/Malibu, other changes include: no sugar, no meat, no cheese, no gluten, no alcohol, no artificial sweeteners, no caffeine, and no Internet. Yep — no caffeine and no Internet, two of my daily staples. The staff of the retreat center sends weekly reminders, starting four weeks before you attend, to help you wean yourself from all these legal vices and prompt you to walk and sleep more. All this because The Ranch is about detoxing your body and mind through clean eating and copious amounts of sweat. With all this activity and serious portion control (they lock the kitchen at night — no joke), you will lose a bit of weight too.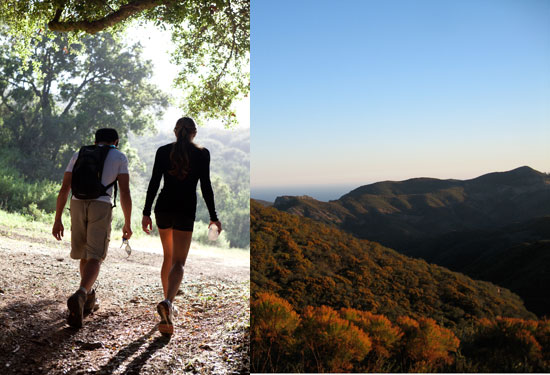 I was invited, along with a couple of fitness writers and luxury travel agents, to experience an abbreviated stay at The Ranch, which is nestled in the mountains of Malibu, CA. And with my expenses paid, how could I say no. The grounds are beautiful and serene, the food gluten-free, vegan, and tasty (only one meal in three days didn't rock my palate). And the program is intense. Don't head there looking to get in shape; come prepared and bring your lightweight hiking shoes.
Read what a day in the life at The Ranch is truly like and take a photo tour of the grounds when after the break.
After being gently roused from slumber, the day begins with a 60-minute stretching session, in preparation for hiking the hilly terrain. Stretching in the dark yoga studio sets you up for a busy day of hiking in those hills that glow red as the sun rises. Breakfast is followed with a five-hour hike — don't forget your hydration backpack — you'll be sweating out all those toxins. After lunch, the exercise classes begin with the sweet promise of an hour daily massage sometime during the afternoon. After releasing muscles worked on the trail with a foam roller, you dive into strength training using a TRX system and then you jump in the pool. Running circles in the water cools you off and keeps the metabolic engine revving. The fitness day ends with Vinyasa yoga class.
It's a lot of exercise in one day, and if you're caffeine free for the first time in years you're going to be cranky, plagued with a headache. My fellow guests were jonesing sugar and dealing with aspartame withdrawal headaches too. But we were reminded regularly that movement and sweating would help release the toxins. Usually day three (the last day of our shortened visit) is the hardest, and after that I hear you feel rejuvenated and renewed. After three days I returned home, and although my husband said I was glowing, I celebrated my homecoming with a glass of champagne, a steak, and shared an ice cream sundae with my girls. The one habit that stuck was living without coffee; I now begin my days with rooibos tea rather than a cup of joe but I do sprinkle my week with the occasional decaf latte.
Aside from hours on the trail — I saw so many beautiful sites — my favorite element of The Ranch was having no Internet access. I could worry about work, but couldn't act on it, so I quickly gave up the act of worrying. Mark, the extremely supportive program director, repeatedly told me not to panic and to breathe. This is another lesson that made it back to Nor Cal — "don't panic" has become a new daily mantra for me.
The program at The Ranch seems a little like Outward Bound, a little like boot camp, and a lot like a gourmet vegan restaurant (the food was amazing and I like meat). While the hiking filled me with a sense of serenity, the fitness classes left me feeling annoyed. I think I ultimately just don't like being told what to do for that many hours of the day. The Ranch program is definitely for folks seeking the type of change that comes from challenge. The program director told me that people in transition are often attracted to the program. And you definitely learn that you can actually live without your vices or constant contact to the worldwide web.
This experience will cost you a penny. Seven days and six nights at The Ranch is $5600. They do send you home with a sweet lunch packed in a stainless steel tiffin and a water bottle.