Review of Remove Detox and Cleanse From Eleven Eleven Wellness
Why the Remove Cleanse and Detox Is Worth Doing
I've never been a fan of cleansing. Drinking nothing but pumped-up lemonade for 10 days seems crazy, and the plethora of all-juice cleanses with their celebrity backing aren't appealing either. I like chewing my food; I also believe in the body's ability to cleanse itself. And despite any substantial medical evidence validating the benefits of cleansing, the market is saturated with detox programs. It's clear that people believe their bodies are loaded down with crap, and they want it out.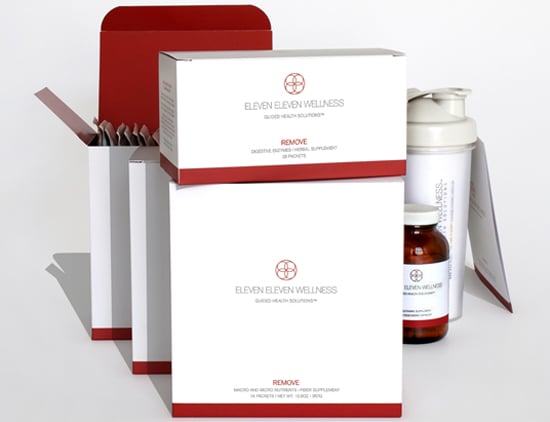 Even though I was a doubter, I decided to try one — maybe Gwyneth, Salma, and Demi knew something I didn't. Could I end up with more energy, glowing skin, and a cleaner colon? Maybe. After careful consideration, I settled on Dr. Frank Lipman's 14-day Remove program ($199). Dr. Lipman is an actual MD, and you eat solid food on his program — win! The idea behind the Remove diet is to get rid of foods that people commonly show sensitivity to with hopes of seeing how your own body is affected. What's left is a diet rich in unprocessed foods and a promise of more energy and mental clarity: "expect to feel like you just hit the restart button."
But did it work? Find out when you
.
It did. I almost hate saying that. I never thought I'd be the kind of person who would recommend cleansing, but I am. I felt more alert and focused while on the program, and my midafternoon slump was a thing of the past. When I woke up in the morning I didn't feel puffy, and I never felt bloated, tired, or uncomfortable after eating. I had tons of energy after work, but still managed to get a full night's rest. Most importantly, I was never hungry and rarely felt deprived. Here's the skinny:
What it is — A 14-day program consisting of three daily shakes, twice daily supplements, and two light meals made up of foods from the approved grocery list. The diet is sugar-, gluten-, alcohol-, dairy-, and caffeine-free. Other foods are off limits too, including soy, corn, factory-farmed meat, and nightshades. The fiber-rich shakes contain herbs that help detox the liver, and the supplements help balance the digestive system. There are also glutamine capsules that help with sugar cravings. With a pricetag of $199, the system is definitely not cheap — I was lucky to have a kit gifted to me from Eleven Eleven Wellness. It is, however, cheaper than many other systems on the market like the Cooler Cleanse for instance.
What to expect — This really depends on your lifestyle. Since I don't drink much caffeine to begin with, I had it easy. But if you are a coffee addict, wean yourself off of caffeine before starting the cleanse. I personally had the hardest time giving up gluten and alcohol. I missed (whole wheat) bread and pasta and certain grains. You'll also do best if you don't eat out. I cooked at home a lot, and brought my lunch to work almost daily. On the occasions that I did go to a restaurant, I managed to find something, but it was never as good as if I made it myself. As for the shakes, I carried the blender ball container and a powder shake packet with me at all times. I made two shakes in the morning (with added fruit) to bring with me to work, and usually had the third one at home before dinner.
What you will feel — There are two aspects to this: mental and physical. I was never hungry on this cleanse. I started off my morning with a shake, had another before a light lunch, and another before a light dinner. I was also surprised to find that the shakes tasted good, especially when blended together with fruit. I felt energized and clearheaded, both good things. Depending on your current diet, your body may need time to adjust to all of the changes. From a mental standpoint, I sometimes felt deprived. I missed my favorite restaurants and craved a cocktail on the weekends. I got upset that I couldn't have dessert. But it was interesting to see how my cravings were mostly in my head. Luckily, these feelings of missing out were gone within the first week. That being said, I was incredibly excited to have a burger and a beer when it was all over.
The takeaway —  Besides feeling more energized, I really did learn how certain foods affect me. Once the cleanse is over, Dr. Lipman suggests introducing "off-limit foods" back into your diet slowly. That way, you can see if you have certain sensitivities. I was surprised to find out that gluten makes me feel tired and weighted down, so now I only eat it occasionally and try to avoid it at work. What's great about this program is that it really teaches you to make a lifestyle change when it comes to your eating habits by eliminating most of the processed junk that's out there. And while this program is not about weight loss, I did lose about five pounds during the two week period that I followed the Remove diet. I'd estimate that I had about 1200 calories per day, but as Dr. Lipman suggested, I increased my calorie intake on days that I worked out. (Though he does recommend decreasing the intensity and length of your workout while on the program.) For people who are eating pretty unhealthy before starting this cleanse, I'd imagine that the weight loss will be much greater.
Not only would I do this program again, but I'm planning to. While I've done shorter versions of this detox following just the dietary guidelines, I've not had the same benefits that the shakes and supplements seem to provide. I'm thinking that after I get back from my everything-goes vacation in March, it might be time to try the Remove program again. If the idea of such a strict two-week diet bothers you, Dr. Lipman also offers the Revive and Sustain programs, both of which are less intense.