Review of San Francisco Yoga Journal Conference 2010
Say Namaste to Sore Hamstrings: Yoga Journal Conference
One benefit of being a blogging yogi in the SF Bay Area is that the annual Yoga Journal Conference is in my backyard. The folks at Yoga Journal were kind enough to invite me for a day of classes last weekend, which seriously worked my body and challenged my mind. Held in a fancy downtown hotel, hundreds of ladies and a few handfuls of men chanted, meditated, and practiced serious asana for the entire weekend. Personally, I love the contrast of practicing asana in a hotel ballroom under a large chandelier.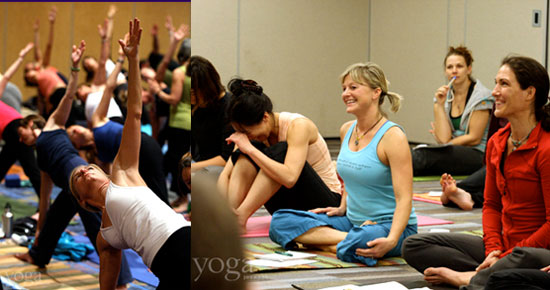 The conference offers five days of classes. The main event takes place on Saturday and Sunday, with three two-hour sessions held each day, starting at 8 a.m. and wrapping up at 5:30 p.m. There's a three-hour hour break in the middle of the day for lunch and shopping the yoga market featuring booths from Gaiam, lululemon, and more. Friday and Saturday evenings the conference offers dance and yoga parties for conference participants to explore the more musical and expressive side of their practice. There are also all-day intensives on Friday and Monday.
To hear more, continue reading.
I was able to take a Empower Flow Yoga with Seane Corn (my favorite class at the conference), a workshop on yoga and the hip joint (being an anatomy geek I was in heaven), and a yoga and meditation class. My hamstrings and glutes are still feeling the effects of practicing almost six hours of yoga in one day. All three yogis emphasized that yoga was a practice, as in something you do regularly and something you work at but never really perfect. All three teachers also stressed that the poses are a means to meditation that asanas are not the end all of the practice, but the beginning.
The Yoga Journal is hosting a conference in Boston April 6 -11, as well as ones in Colorado and New York City in the Fall. If you are looking to immerse yourself in yoga, these conferences are great way to study a wide variety of styles in a short period of time.
Source: Nancy Dionne