Review of Selene Yeager's Book Ride Your Way Lean
Two-Wheel Your Way to Weight Loss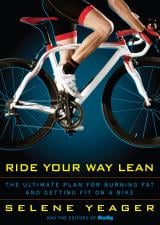 I am a self-described cardio junkie. Getting my heart rate up for over 30 minutes usually makes me happy, and my favorite way to get my heart thumping is cycling. Climbing big hills on two wheels makes me feel powerful. The glad-to-be-alive feeling you get from biking is just one of the reasons Selene Yeager, author of Ride Your Way Lean ($20), thinks dieters around the globe should be riding off the pounds.
Known as the Fit Chick around Bicycling Magazine, where she's a regular contributor, Selene outlines, as she calls it, "the sneaky ways cycling takes off pounds." Here are just five of the reasons you should grab a bike and start pedaling.


Happiness: In her book, Selene cites a small study from Bowling Green State University where biking was shown to improve the mood of the participants. Even though the study only involved 21 participants pedaling for 10 minutes, I wholeheartedly agree with the study's findings. Biking always boosts my spirits.
Energy: Exercise has been repeatedly shown to increase your energy and reduce fatigue. Biking is a great afternoon pick-me-up, and Yeager suggests biking on your lunch hour if you can. This means you either bike to work, a great way to start your day, or travel with your road bike — hello bike rack.
There are three more reasons so keep on reading.
Sleep: Hopefully you know by now that sleep plays an integral part in weight loss. Selene mentions that "when you don't give your body the sleep it craves, it starts hunting for relief in the form of food." She goes on to cite a study from Stanford that found 30 to 40 minutes of aerobic exercise, including biking, helped men and women with mild sleep problems actually fall asleep easier and sleep longer.
Appetite: The debate on exercise and weight loss continues, but studies have shown that vigorous exercise, like biking briskly, raises the feel-good brain chemical dopamine, decreasing your desire to eat supposed feel-good foods, like corn chips and chocolate cake. The Fit Chick also mentions a study that found exercise actually decreases the appetite-stimulating hormone ghrelin.
Fun: The pure joy of biking is worth mentioning again. If you enjoy a form of exercise, you are more likely to actually do it. In my book, running, a great form of exercise, is work, but biking is fun. I can ride further and longer than I could ever run, which makes biking feel like an adventure. After pedaling for 30 minutes from my home, I can find myself on a rarely traveled country road. Without traffic to worry about my mind can wander as my feet turn the cranks.
Now that you're sold on the concept of cycling off unwanted pounds, you need a plan. Pick up Selene's book. She gives you the skinny on gear, workout plans, weight training to kick up your metabolism and help you on the bike, and eating tips. You can buy the book online at Amazon or bike down to your local bookstore. Join our cycling community group Sweet on Biking for extra support, too. No matter if you're thinking of cycling on the road with slick tires, riding nubby tires on dirt trails, or cruising about town, I do think you'll find biking makes you feel like a kid again.