Review of Shiva Rea's A.M. Energy Yoga Video
DVD Review: Shiva Rea A.M. Energy
I've tried hundreds of yoga DVDs, and many of them I've only used once. Videos created by Shiva Rea are different though. Her calming energy, dynamic yoga sequences, creativity, and strength are inspirational. Her Creative Core + Upper Body video is my absolute favorite, but I also keep Fluid Power — Vinyasa Flow Yoga near my DVD player.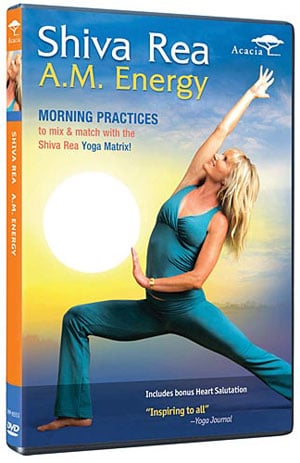 I have another DVD to add to my pile of faves: Shiva's A.M. Energy ($20). It begins with a short meditation and includes three 20-minute practices designed to "revive your body, mind, and soul at the start of each day." Plus, there's also a bonus 20-minute Heart Salutation practice from her video Radiant Heart Yoga. Here are my thoughts on the different segments.
Body Mandala: You gotta love Shiva Rea for having you do squats and yogic push-ups all within the first two and a half minutes. She then leads you through a series of poses designed to strengthen your upper body, core, legs, and buns (love the Sage variation!). The sequence is repeated once more with more advanced variations. The 20 minutes just flew by, and my entire body felt calm, open, and relaxed.
Keep reading to hear about the rest of the video.
Shakti Flow: This segment is a little less yogic and more dancey, more creative, more free. While giving subtle instructions, she encourages you to move, shake, and circle your limbs in the way that feels good to you. Shiva includes fluid twisting, Goddess squats, and poses targeting the hamstrings, hips, and core. This part of the video is really active, flowy, and energetic. I was excited to feel my heart beating fast, which is something that doesn't usually happen while following a yoga DVD.
Vira Flow: This sequence involves lots of traditional standing poses that strengthen your lower body and challenge your sense of balance and concentration. Expect to do some more challenging poses to target your upper body, hips, and spine. After many years of practicing yoga, I love that Shiva can still introduce variations of poses that are new to me.
Each segment of this video is so different, and what's great about this video is the Yoga Matrix feature. You can choose whatever segments you want in whatever order, so depending on your time and energy level, you can create a workout that's right for you. I'd definitely recommend this DVD to beginners and seasoned yogis alike.