Review of Shiva Rea Power Flow Yoga DVD
DVD Review: Shiva Rea Power Flow Yoga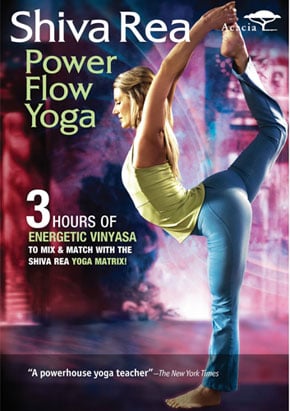 When it comes to practicing yoga, I believe so much of it boils down to finding the right teacher. If you aren't inspired by your instructor, the desire to keep going weakens. On the flip side, if you adore the guru in front of you, the yearning to continue only grows stronger. For that reason alone, I'd highly recommend Shiva Rea's latest yoga DVD — Shiva Rea: Power Flow Yoga ($14).
While new to the market, it is actually a compilation of Shiva Rea's previously released DVDs, which are awe inspiring on their own. For those who don't feel like buying each of her select DVDs, the Power Flow Yoga DVD offers the best of the best with 13 segments of various types of yoga. If you're in the mood for Vinyasa only, she's got you covered. If Namaskar (variation on sun salutations) has a grip on you for the day, there are three options for that, too. Between the "matrix," as she dubs, it, you can tailor your yoga workout to suit exactly your needs. And, if you don't want to manage that, you can simply set it to one of the three pre-set practices, which range between 50-57 minutes each.
To see which segments I liked the best, just
.
Before I could decide which part of the DVD I liked best, I tried each of the 13 segments of the matrix and all three of the pre-set practices. The matrix allows you to customize your yoga routine to fit your fitness and time needs. If you only have 25 minutes to squeeze in some stretching, you can easily pop in the DVD and fire up the 11-minute Mandala Namaskar part of the matrix, where you get into a fluid motion of intense stretches. Follow it up with a calming 10-minute Water Core routine and wrap it up with a quick 5-minute session of Savasana (corpse pose). If you can budget more time, you can make the yoga practice as long and intense as you'd like. And, if you're just not a customizing kind of gal, then you may just opt for the preset practices, which I found myself doing frequently. I played with the matrix and came up with a few of my own workout routines and found that while I enjoyed customizing my yoga practice, I found I liked the "Fluid Power" pre-set practice the most. Intense and challenging, it also made my body and mind feel capable and strong. I liked the "Core Power" and "Heart Fire" sessions also but found I went back to the "Fluid Power" most frequent.
Prior to setting off on your yoga discovery, it is probably worth watching each of the 13 matrices separately so you can know what options you have before you. Once you are set and ready, Shiva Rea talks you through each sequence so you feel as if she's standing right beside you — in a sandy desert! The opening, or the Twisting Kriya, reveals about 10 people literally twisting and swaying in a gorgeous sand dune setting where you might imagine camels marching along in the background. You may find yourself sweeping your feet looking for sand at the end of the hour-long workout. Which, by the way, is a huge selling point for myself and many of my yoga-adoring friends. I love that this DVD has countless ways for me to find the right amount of flexing and bending in just under the 60-minute mark. Most classes I attend go for 90 minutes, which is nice when you've got the time, but with two kids and a job, I find the option to customize my yoga routine quite nice and appropriate for my hectic life. And, when I finish the workouts, I don't feel so, well, hectic. Nor do my muscles, joints, or mind.
Here is a breakout of the matrix as well as the pre-set routines.
Matrix:
Opening: Twisting Kriya (7 minutes, Trance Dance)
Namaskars: Agni Namaskar (17 minutes, Surf Yoga Soul), Mandala Namaskar (11 minutes, Fluid Power), Chakra Namaskar (20 minutes, Daily Energy)
Core: Water Core (10 minutes, Fluid Power/Creative Core Abs), Handstand Vinyasa (8 minutes, Fluid Power)
Standing: Fire & Water (20 minutes, Daily Energy), Balance Flow (20 minutes, Surf Yoga Soul), Flow of Empowerment (22 minutes, Standing Poses), Creative Roots (13 minutes, Creative Core Lower Body)
Back and Forward Bends: Backbending Vinyasa (14 minutes, Fluid Power), Forward Bends & Hip Openers (18 minutes, Fluid Power)
Shavasana (5 minutes, Fluid Power)
Pre-Set Practices:
Fluid Power (53 minutes): Twisting Kriya (from Trance Dance), Mandala Namaskar (Fluid Power), Water Core (Fluid Power), Fire & Water (Daily Energy), Shavasana (Fluid Power)
Core Power (50 minutes): Agni Namaskar (Surf Yoga Soul), Handstand Vinyasa (Fluid Power), Balance Flow (Surf Yoga Soul), Shavasana (Fluid Power)
Heart Fire (57 minutes): Chakra Namaskar (Daily Energy), Backbending Vinyasa (Fluid Power), Forward Bends & Hip Openers (Fluid Power), Shavasana (Fluid Power)