Review of Timex Ironman Sleek With Tap Technology
Gear Review: Timex Ironman Sleek Watch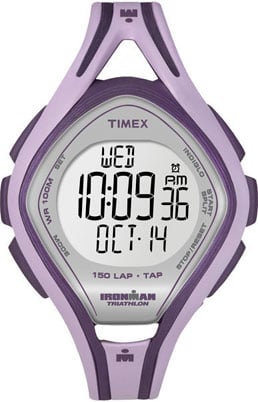 I am feeling the influential reach of the iPhone, with its button-free user interface, all the way over in the sports watch category. Tap screen technology has reached the Timex Ironman Sleek ($89). No longer do you need to fiddle with a button mid run to track your splits, just tap the screen and your lap is recorded. You can also set your desired split time enabling the watch to provide instant feedback during your run in easy to follow coded beeps; slow beeps mean you're running too slow, fast beeps mean you're ahead of target, and one slow beep means your pace is spot on. You can even tinker with the margin of error so the watch will let you know if your pace is right with plus or minus five seconds or 20 — whatever you choose.
You can also create three separate interval workouts using this easily programmable watch, with up to 16 intervals that you can set to repeat for a killer workout. The watch holds up to 150 laps and on long runs and rides it flashes reminders to eat and drink — kind of like having your mom on your wrist.
This watch is considered an entry-level watch; it has no heart rate monitoring capabilities and no GPS, but it's waterproof, making it great for swimming. Before entering the pool, or heading out on a ride for that matter, be sure to adjust the tap sensitivity to hard. Otherwise the watch can register bumps in the road or the friction of the water as a tap creating a lap when you don't want it to.
I like the large face of the watch, which makes it easy to read. And it's lightweight too. On days, when I want to slip out the door minus the HRM, the GPS, and the iPod, this watch is perfect.