Review of Village Harvest Frozen Grains
Food Review: Village Harvest Frozen Whole Grains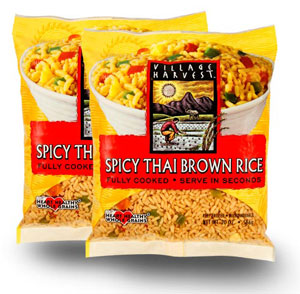 Whole grains are a great addition to any meal, but occasionally prep time can get in the way. Brown rice takes longer to cook than the less nutritious white counterparts. Rinsing quinoa before cooking it sometimes creates enough of a mental block and I end up not adding it to a meal. As a full-time working mom and self described health food nut, I was curious to try frozen pre-cooked grains from Village Harvest. The grains are cooked, then frozen to minus 300 degrees F to protect the "integrity of the grain." The company sent me some samples and I have included both the Quinoa and the Spicy Thai Brown Rice in many meals.
To see what I think of this product just
.
I have to say I was a bit skeptical about frozen grains and was worried the texture would be seriously mushy. The quinoa kept its nutty flavor and crunchy texture — better than when I make myself. I have taken to heating a half a cup of quinoa for 45 seconds in the microwave and serving pre-cooked Indian curry over it for a healthy lunch that takes two and half minutes to make. I served the Spicy Thai Brown Rice as a side dish with grilled fish and veggies. It was too spicy for my girls, but my hubby and I enjoyed it. He was even surprised it had been frozen.
The ingredient listed on the bag of quinoa is simply quinoa. No preservatives are added. The Thai Rice ingredient list is simple too: long grain brown rice, soy sauce, green bell pepper, tomato, eggs, sriracha (hot sauce), rice bran oil, sesame oil, fish sauce. Check out the nutritional information below.
| | |
| --- | --- |
| Serving Size | One cup (130 g) |
| Calories | 220 |
| Total Fat | 4.5 g |
| Saturated Fat | 1 g |
| Cholesterol | 10 mg |
| Sodium | 460 mg |
| Carbs | 39 g |
| Fiber | 4 g |
| Sugar | 1 g |
| Protein | 5 g |
You do pay a bit for the convenience; a 20-ounce bag cost between $4.99 and $7.99. Look for the brand at Whole Foods and Costco. — where you can get a larger bag with a zip-lock top at a great price. You can find a store that carries the brand near you on the Village Harvest website.