Review of Weight Loss Pilates DVD by Acacia Featuring Kristin McGee
DVD Review: Weight Loss — Pilates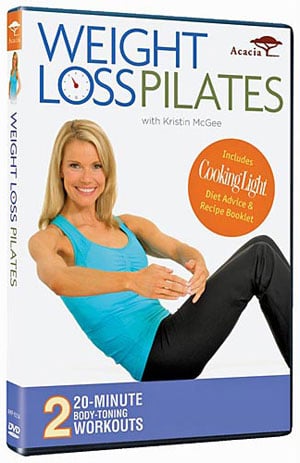 Although I'm not a fan of Acasica's title choice for its DVD series being "Weight Loss," I enjoyed Weight Loss — Cardio Sculpt and Weight Loss — Cardio Kick workouts. The latest in the series, Weight Loss — Pilates ($15), didn't disappoint either.
Unlike most Pilates DVDs, which focus on mat exercises, this workout contains some cardio. The instructor, Kristin McGee, leads you through cardio intervals to get your heart rate up and to burn extra calories. There are two 20-minute workouts to choose from, and if you do them with the warmup and cooldown, each workout comes to 33 minutes. If you're craving a longer workout, you can do both back to back.
The cardio portion involves plyometrics, Pilates jumping jacks, Running Plank, and ballet moves such as plies. These moves raised my heart rate and had me feeling a burn in my legs, which is a good thing. The Pilates portion includes basic exercises like the 100s, Double Leg Pulls, and Mermaid Side Planks.
Kristin appears in the Pilates For Beginners DVD too, but I actually liked this video better because it combines Pilates with cardio. My only gripe is that although I appreciated her upbeat and encouraging personality, the instructor seems a bit on the thin side and her slight frame was actually distracting. Aside from that, this is a great toning and light cardio workout to do when you want to exercise at home or on the road.
To see a video clip of this DVD, read more.
If you like what you've seen and heard, you can get a deal and buy all three of the videos from this Weight Loss series for only $38.