Review of What the Yuck — Women's Health Book Published by Health Magazine
Book Review: What the Yuck
Let's face it, the human body is fascinating but many of its functions border on disgusting and embarrassing territory. And we all have questions about mystifying bodily functions, and often these are questions we just keep to ourselves. Dr. Roshini Raj teamed up with the executive editor of Health Lisa Lombardi to answer many of our most embarrassing questions in a new book aptly titled What the Yuck.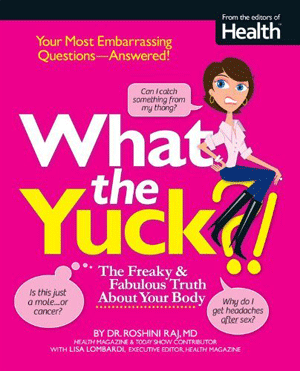 The book, written in question and answer format, begins with the most basic bodily function with the first chapter entitled "The Loo: Potty talk for grown-up girls" and ends with how techy gadgets can wreak havoc on our heath in the sixteenth chapter "Life 3.0: How do you avoid iPad neck? BlackBerry thumb? Download the answers." The chapters in between deal with menstrual cycles, sex, dieting, pregnancy, gynecological exams, male anatomy, and more. All in all, this book is a good read. It's downright entertaining as well as informative. Dr. Raj's answers to the 205 questions that appear on the book are levelheaded, easy to understand, without judgment but certainly contain a dash of humor.
When I flipped to any page in the book, there was a question on almost every page that captured my attention. The questions range from medical queries "I have deep stabbing pains in my breasts. Could it be cancer?" (the answer: highly unlikely) to "How bad is it to sit on a public toilet seat? Could I catch something nasty?" (the answer: there are more germs on the floor of public restrooms than the toilet seat). But the chapter on the health styles of the rich and famous titled "In La La Land" was the most fun to read containing queries about the health risks of bedazzling your vajayjay, a la post-breakup Jennifer Love Hewitt, as well as the high fertility rate of actresses over 40 (IVF and egg donors certainly help).
This book is by no means a replacement for the women's health tome Our Bodies, Ourselves but it certainly is fun to read. You can find it at Amazon for $14.