Review of Yukon Ultimate Fitness Object
I Don't Buy It: Yukon Ultimate Fitness Object
First of all, nice creative name. Ultimate Fitness Object? Sounds amazing, doesn't it? So amazing that I bet you want to order one immediately! Ha, yeah right.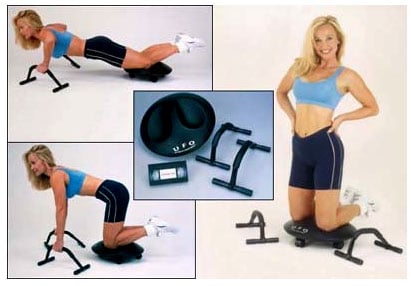 Made up of two push-up floor bars and a padded skateboard for your knees, this product definitely promises results — a trimmed waist, hips, and buns, increased flexibility, and a toned upper body. You just sit your knees on the pad and swivel around to tone your arms, legs, and abs. It vows to give you better results without back pain as compared to similar types of equipment on the market.
I'm not doubting that the Yukon Ultimate Fitness Object will tone your muscles, but with the high price tag of $100, why spend the dough when you have a whole array of free strength training moves at your fingertips? It's just as easy to do sets of push-ups, crunches, and squats as it is to hop on this Fitness Object, but you won't have to spend a dime. If I were you, I'd save my moolah and buy a less expensive and more versatile piece of strength training equipment such a kettlebell, a weighted ball, or resistance band.