Review of Zobha Yoga Panties
Zobha Yoga Panties Have You Covered
When it comes to working out, I sometimes suffer from the panty conundrum: basically to wear or not to wear undies under my leggings or shorts. I have learned that this answer varies from workout to workout. The authors of Run Like a Mother ask: why wear nonwicking cotton drawers under your running shorts with a wicking liner? But for yoga, Pilates, and strength training it's another story where you sometimes find yourself in compromising positions, like Plow pose, for instance.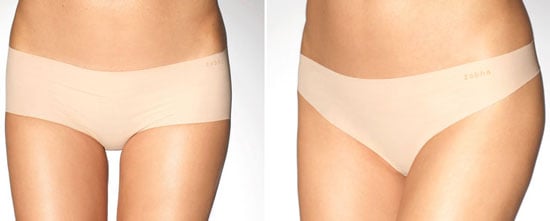 Zobha, maker of quality yoga and Pilates wear, has come up with the perfect panty solution for these types of workout. The brand's laser-cut thongs ($16) and boy shorts ($18) provide the coverage you want without VPL (visible panty lines). Both seamless styles are made from wicking fabric but feature a cotton gusset for comfort. These undies stay in place during all sorts of movement too. I have found it best to hand wash these garments. Since these panties are on the pricier side, it's helpful that they do dry quickly making one pair enough if you work out regularly.
I prefer the boy shorts for strength training and the even more discreet thong for yoga. Stretch and lift with no apprehension — these panties have you covered. The boy short and the thong are also available in the more adventurous colors — hot pink and aqua. Find them online at Zobha.