Ricki Lake's Weight Loss on Dancing With the Stars
Ricki Lake Sweats All Over Derek Hough and Loses 13 Inches
Known for her spunky attitude as both Tracy Turnblad in the original movie Hairspray and her 11-year stint as a daytime talk show host, Ricki Lake, 43, is no stranger to weight issues. A few years ago, she dropped 140 pounds off her 270-pound frame, and although she might have gained some back, Dancing With the Stars is whipping her back into shape.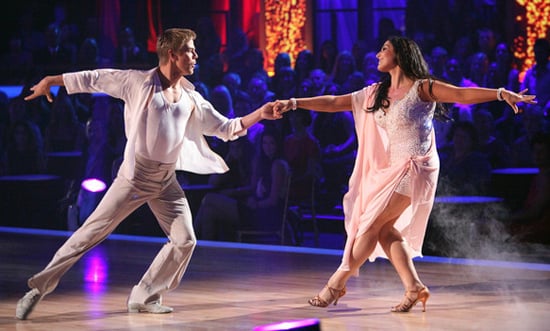 Ricki told Ellen DeGeneres on her show that airs today, "I lost more than 13 inches in a month. It's crazy." She's dropped about 15 pounds so far, and that includes five inches from her waist and five from her hips. She owes it all to her dance partner, Derek Hough, who encourages her to move more, boasting that, "The Derek Hough diet is the best. It's hardcore." She adds,
"[DWTS pros and execs] say it's the hardest thing you will ever do and you're like, 'Yeah, yeah, yeah. I've done hard: I had my baby in my bathtub at home' and yet we work out all day long. We are sweating all over each other!"
Ricki Lake told US weekly, "I am really getting in great shape. I will be wearing less and less clothing the smaller I get. I am feeling more comfortable in my own skin."
Like DWTS alums Kelly Osbourne and Kirstie Alley, it's amazing to watch someone slim down right before our eyes. I'm rooting for Ricki, hoping she's able to stay on the show week after week, shaking her booty and shedding those pounds.