Rise in Adult Weight Loss Spas, Resorts, and Retreats
Fat Camps Become Adult Friendly
Kids aren't the only ones going to "fat camps" these days. Billed in kinder terms as weight loss resorts, spas, or retreats, CNN reports that attendance has taken off amongst overweight and obese adults too. And while it used to be a women's only sort of zone, more men are signing up. In 2007, men made up 30 to 40 percent of customers to these types of facilities.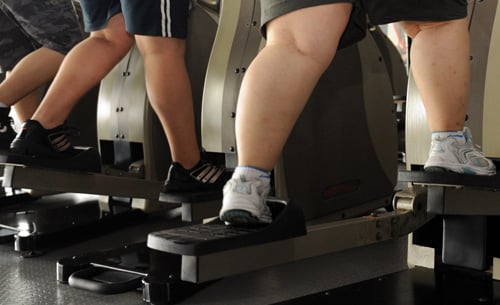 The article speculates that shows like The Biggest Loser have helped the upward trend of adult weight loss retreats. (Coincidentally, The Biggest Loser has its own adult weight loss resort.) But the help doesn't come cheap. Taking part in one of these programs will cost you $2,000 to $7,000 per week, and while their methods of weight loss may vary — some focus on outdoor activities, while others take a more clinical approach — the underlying idea is the same. The retreats create a controlled environment that centers around "exercise, healthy meals, and lifestyle education" to help adults drop the pounds.
To find out their success rates and locations,
.
But do they work? While the research is spotty, the individuals profiled in the article had mixed results, and stats from the Pritikin Longevity Center + Spa — the most researched of the weight loss facilities — shows that participants lose four to five percent of their body fat while there. A potential problem is keeping the weight off once you're back at home. When researchers followed up with guests of the Hilton Head Health weight loss spa, they found that only 22 percent of the participants weighed 10 percent less than they did when entering the spa. A similar study of a European weight loss center yielded the same results.
Much like what we saw with Erik Chopin of The Biggest Loser, losing weight quickly in a controlled environment is hard to translate back in the real world. This is perhaps the reason Jillian Michaels is opting to go to the homes of participants in her new weight loss show. The experts interviewed for the CNN article said that many of these centers focus on "rapid weight loss through very low calorie diets and/or a punishing exercise regimen," instead of sustainable lifestyle changes. Until more research on the effectiveness of these centers comes out, experts are hesitant to say whether or not they truly work. And as we've seen in our own lives, different methods work from different people. If you are interested in checking out a facility like this, here's a list to get you started.