Rita Wilson on Losing Weight With Jillian Michaels
Rita Wilson on Her Weight Loss Journey and Working With Jillian Michaels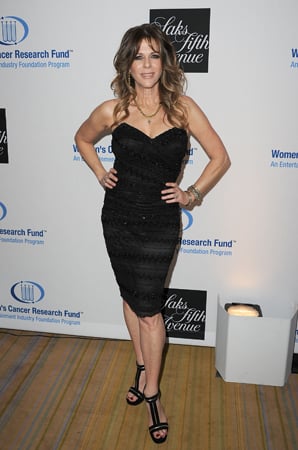 Rita Wilson opens up about her weight loss journey in the March issue of Harper's Bazaar, and in the first person chronicle, describes what prompted her to reach out to trainer Jillian Michaels. The actress, 54, describes putting on the "the freshman 15 at 53" and what it took to get it off.
On why she sought help: "My comfort food had now become . . . uncomfortable . . . It was time to get into shape, because how many times could I put one more photo of myself into my scrapbook, angling my body behind my husband's (or an unsuspecting person or a piece of furniture) so I would appear half my size?"
On meeting Jillian: "The first day Jillian came over to my house, I thought we would just discuss process, diet, physiology — you know, two girlfriends shooting the breeze . . . So when Jillian told me to get up and start running my interior stairs, I thought she was joking."
To hear about Rita's diet and how she feels now,
.
On her diet: "She put me on a 1,200-calorie-a-day diet that was primarily grilled fish or chicken, steamed veggies, and big salads for lunch. You know the drill: no sugar. Very little dairy. No alcohol. A lot of exercise."
On the results: "Now I'm thrilled to say that I'm 14 pounds lighter than when I started. I feel strong. I want to live life fully and healthfully. Now my weight is more about my health than about what I look like, although looking good in clothes is a nice by-product. I love life, and I love this imperfect body. I am learning to take care of myself, my body, and my spirit. I feel hotter than ever."