Roasting Turkey at Home For Sandwiches
Smarter Eats: Roast Your Own Sandwich Meat
One of my New Year's resolutions is to always bring my lunch to work. I'm trying to save money, eat healthier, and have more time so I can go on a long walk during my workday. So far, so good!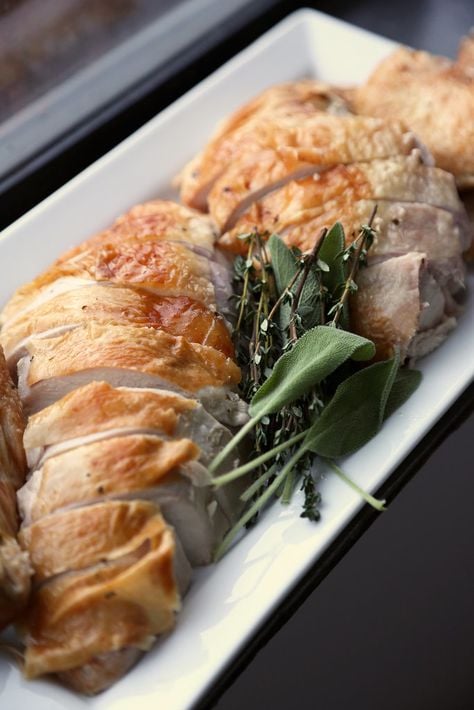 Of course now that I'm shopping at the market more often I'm trying to figure out ways to bring down costs there too. Two words: sandwich meat. For my sandwiches I like to use good quality meat, which means natural, organic, or minimally processed. And even though it's still cheaper than eating out, this stuff is really expensive! One 8 oz. package of free range natural turkey meat costs $7, and only lasts me a few days. As I sat eating my sandwich last Friday, I decided that I would try and make my own sandwich meat this weekend. I figure it's cheaper, will last longer, and it's going to taste better.
I settled on turkey and picked up a free range natural 3.75 lb. bone-in turkey breast from my butcher for $23. I prepared it the same way as a whole turkey — rubbed it down with a little bit of olive oil, kosher salt, herbs, and spices. I basted it a couple of times while cooking and in one hour it was done. After having some for dinner, I sliced some to use for sandwiches and used the bones to make a turkey stock. I also froze half of the cooked breast to use for sandwiches next week.
Besides, a sixty percent savings (3 lbs. of pre-packaged turkey meat from the same makers of the bone-in breast would cost over $50), my homemade sandwich meat tastes better than most deli meat I've tried. It's flavorful, moist, and not too salty. While shopping, I also compared the prices of a much cheaper non-organic brand's deli meat to its bone-in turkey breast and found that roasting your own still gives you a tremendous savings. You save even more money if you opt to roast an entire turkey rather than just the breast. I'm so impressed with how everything turned out that next time I'll be making my own version of lean roast beef deli meat.
Image Source: POPSUGAR Photography / Nicole Perry