Rodney and Colleen Yee Yoga Journal Conference Interview
Rodney Yee and Colleen Saidman Yee on Finding Your Yoga
Rodney Yee and Colleen Saidman Yee are no newbies to the world of yoga celebrity. This accomplished pair has shared their knowledge and expertise on a global scale, and they'll be teaching class at the upcoming Yoga Journal Conferences, held all over the country. I was lucky enough to recently chat with them about all things yoga, or more specifically, why a yoga practice can make a huge change in anyone's life who's willing to try.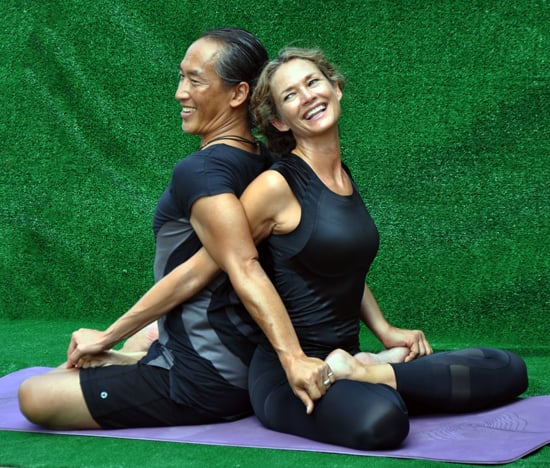 Find the right fit: There's no one-size-fits-all answer to finding the perfect yoga class for your needs. Rodney holds a firm belief that "there's a yoga out there for everyone — whether you're in a hospital bed or you're in Kindergarten"; it's important to keep on trying out new styles with "well-seasoned teachers" to find the yoga that will work for you. Colleen wholeheartedly agreed and added some great attitude advice: "Don't get disheartened. If you start going to yoga and it's not right or you don't like it, it doesn't mean all yoga is bad for you. Just continue until you find that special match."
Drop into your mind: Becoming more aware about your body's capabilities, limitations, and needs are some of the greatest gifts from a yoga practice. But this also rules on a cerebral level. During class, so many people struggle with a wandering thought that take them away from the yoga, but Colleen explained that even recognizing "that tug-of-war [in your mind] is huge." Rodney suggests that "the problem is not with the fluctuating mind; the problem is thinking that it should be different . . . the nature of the mind to concentrate, but the nature of the mind is also to be distracted . . . the more you drop into saying, 'Okay, I can live with that' there's less conflict and more acceptance."
Keep reading for one more helpful tip learned from this amazing couple!
Consistency is key: While the couple agrees that any amount of yoga is beneficial, to really see results, Colleen explained that a shorter, easier consistent practice will help you reap yoga's benefits faster: "if you practice for 20 minutes, five days a week, you're going to see physical, emotional, psychological results much quicker than going at it really hard once a week." You have to see what fits into your schedule, and make room to for your personal practice's growth.