Rollerblading Health Benefits
4 Reasons to Bring Rollerblading Back
Rollerblades may sound like a dated trend, but I'm here to make a case for its comeback. After being gifted a pair of beautiful inline skates from Rollerblade USA, I immediately took a spin around the office. After hitting up my local park later that week, I was amazed at the quality, comfort, and heart-pumping workout I received from just 40 minutes of rocking them. I got more than a few stares, a handful of laughs, but a ton of thumbs up. If you're still not convinced, here are some reasons to give inline skating a shot ASAP.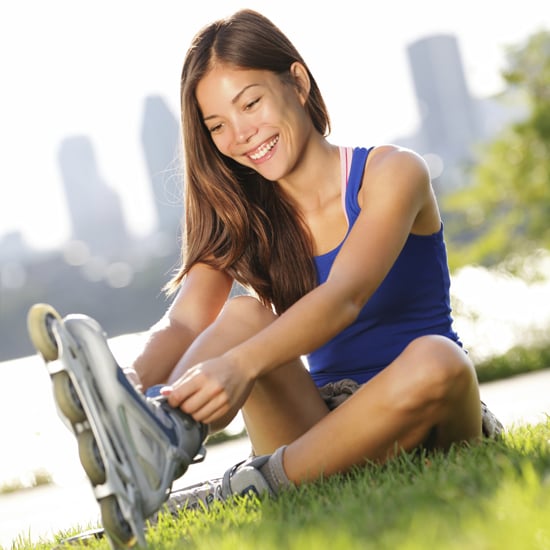 It burns a ton of calories: Rollerblading may look like a leisurely activity, but it really gets your heart pumping. The cardio element inline skating offers is most comparable to running. Just 15 minutes burns 162 calories, while a full hour burns nearly 650 calories!
It firms your lower body: The natural side-to-side motion your legs get from inline skating is ideal for trimming the thighs, strengthening the quads, and lifting the glutes. It's also perfect for people looking for a low-impact aerobic activity that doesn't shock their joints.
Keep reading for two more reasons to rock rollerblades now.
It improves coordination: Rollerblading takes a bit of practice in the beginning, but it improves flexibility and coordination tenfold. The activity forces you to even out your balance and find your center of gravity. Just like a consistent yoga practice, you'll find that continued inline skating will get you more graceful during your everyday activities.
It clears your head: The swift and repetitive action of skating helps you stay present and gives your brain reprieve from constant noise. If you're skating in a quiet park, some music can help you get into the groove, but if you're out on the street, don't listen to loud music. Don't get so caught up that you're unaware of oncoming traffic.
Did you love rollerblading in the past? Would you consider strapping on a new pair? Tell me what you think below!
Calorie Lab calculations based on 130 lb woman