Running or Biking in the Rain
Do You Work Out in the Rain?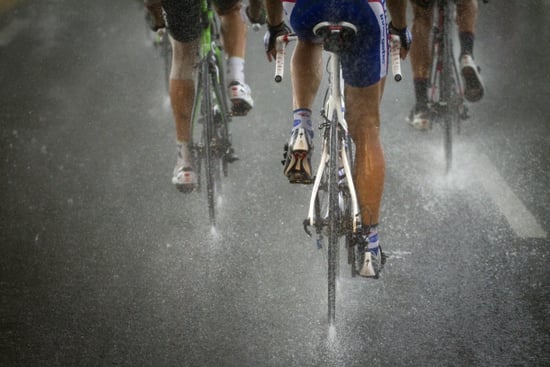 My weekend saw a lot of rain. While I was content to stay dry indoors, I noticed quite the opposite from folks in my neighborhood. I passed at least five rain-soaked runners on my way to the local coffee shop, and while on my way to visit a friend, a handful of cyclists zipped by me, biking through multiple puddles in their path.
I will almost always choose exercising outdoors over the gym — except when it's raining. Besides being caught in an unexpected downpour during a hike, I've never exercised in the rain. My klutzy tendencies coupled with slippery surfaces don't seem like a good mix! Running in the rain doesn't have to be avoided — there are some people who actually prefer to brave the elements during their run. And for runners and cyclists who may be training for a race, having past experiences with being outdoors during a storm can help prepare them for the unexpected if there is rain on their race day.