Running Form Tip
Running Tip: Do This For Better Form
A few years ago when I decided I wanted to take my recreational running to the next level, I promptly wound up with a very sore and angry IT band. During one of my first trips to the physical therapist, he stood in front of a treadmill and watched my running form.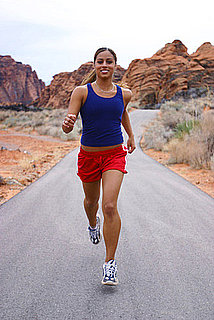 After about 30 seconds of running, he stopped the machine and said, "I know exactly what's wrong."
Turns out, little breaks in form can cause big problems. But don't stress over worrying about perfect form on top of the run at hand. My therapist gave me two easy-to-remember, easier-to-implement tips:
Look at the ground 10-15 feet in front of you. This keeps your head up and shoulders back, improving your posture and opening up your lungs for maximum efficiency.
Push off of your second toe. My IT band problem started because instead of kicking my feet straight behind me during a run, I kicked them out to the side; a common novice runner mistake. By focusing on pushing off of the toe next to your big toe, you'll straighten out your stride and build the proper muscles necessary to sustain long (and healthy!) runs.
At first, implementing these two tips left me a bit sore — I was finally using the correct muscles I had been neglecting. And not only did it improve my form, it helped tremendously with the IT band pain I had been experiencing. Three years later and I still remind myself of these quick tips during a long run.