Running Shoe Review: Asics Gel Kayano 17
They're a Hit! Asics Gel Kayano 17 Review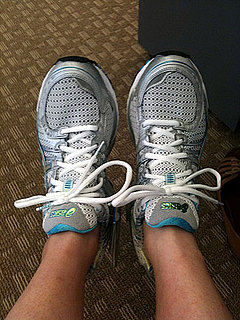 As I've mentioned in the past, I'm a loyal Asics purchaser when it comes to running shoes, so when a pair of brand-new Gel Kayano 17s showed up at my desk, I couldn't wait to take them for a spin. My last pair of Gel Kayanos was the 14s, purchased two years ago, right before my first marathon. Since then, I've been running in the still-awesome but less expensive Gel Pulse or GT 2110, promising myself the next time a big race came down the pike, I'd spring for the pricier Gel Kayanos, which retail for $140.
Find out how they stacked up after the break.
The first thing I noticed upon pulling them out of the box was their weight — they're the lightest Kayano shoe yet, and noticeably lighter than any of the Asics I've owned — each shoe is 12.3 ounces. The shoe's weight is mostly in its heel thanks to the cushioning material sporting two different densities in the heel and forefoot; the front of the shoe is less dense, making for a more cushioned stride. Additionally, off-center laces are anatomically designed to fit your foot and reduce irritation. And, as an eco-friendly bonus, the overlays are made from recycled synthetic material. Plus. . . I really like how they look! (I am not one for pink running shoes.)
I wore these shoes both outdoors in the park and indoors on the treadmill. The 17s were slightly narrower than my previous pairs, and I loved the feel! The first time I ran in them, the insides of my feet were slightly irritated by the shoe's eyelet stay (the part that holds the laces), but by the second and third runs, the irritation was gone and they felt comfortable and great. (I guess even my favorite pair of shoes isn't immune to the need for a quick break-in.)
Overall, Asics fans, you will love these shoes! They're lighter, and feature increased comfort and a better fit, but still feel like the Asics you've grown to love. More of a visual person? Here is the old Gel Kayano 14 side by side with the new Gel Kayano 17, for a little compare and contrast.