Running Strategies to Become Faster
Want a Faster Race Time? Think Strides, Intervals, and Drills
When training for a long race, it's easy to focus on just completing your mileage for the week, but how you run is just as important as how much. We asked Ben Hwa, a running coach and trainer at Sports Club/LA, for his go-to advice for any runner looking to be faster and better out on the road.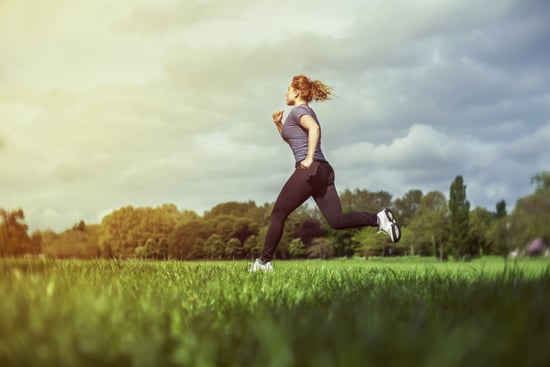 Postrun strides: You've put in your long long run and can't believe you made it to mile 12 — but you're not done yet, Ben says. "To make sure runners stay sharp, I sometimes recommend adding in strides at the end of long, slow days," he says. "This is helpful because it teaches the body how to run fast and efficient on tired legs." He recommends 70-100 meters of running at 80 percent effort; repeat four to eight times.
Speed intervals: Interval training is great for so many things, from blasting belly fat to heart health — and you can count upping your speed and stamina as two important reasons to do intervals as well. When interval training as a runner, make sure your speed is at or slightly below race pace, Ben advises. "These types of workouts help develop a higher threshold for workouts, which will hopefully translates to faster race times," he says. For your next interval run, try this outdoor running speed play workout.
Drills: Hark back to your high school sports days with drills like high knees, skipping, and backward running. "While these may be used only for warmup purposes, it can also help with running faster times," Ben explains, adding that doing drills during your workout will also improve your running form and help prevent injury. "Improving running technique will allow the body to properly operate with the least amount of stress possible," he says. Take 20 minutes to perform these nine running drills three to four times a week.