Running Tips From Marathon Veteran Jeff Galloway
Jeff Galloway Says You Have to Walk to Run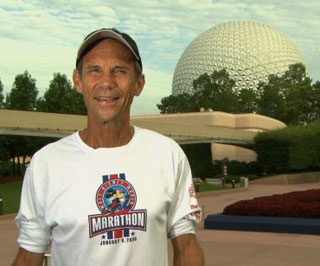 It's early in the morning, and Jeff Galloway is pumped to go running, but before hitting the pavement with his wife of 30-plus years, the running coach takes a bit of time to talk training with me. It's no surprise that runDisney asked Jeff, veteran of 153 marathons and counting, to be the official training consultant for its race series. Galloway wants to get America onto the streets and he has a plan to make it happen: the run walk philosophy. Walking breaks are inserted into every training run to prevent overtiring; this not only means you can run for longer, but walk breaks should also help keep injuries at bay.
Jeff has been running for more than half a century and explains, "I started a little over 51 years ago as fat kid when I was forced to choose some form of physical activity after school." After doing some reconnaissance with the other self-described "lazy kids," Jeff was told the cross country coach was lenient and it was easy to goof off in the woods instead of logging miles. But he "got hooked [on running] because of the camaraderie of the other kids. We joked and told gossip about teachers and I wanted to stay up with the latest gossip so stayed with the pack."
He went from "getting hooked" to creating a career out of running and coaching. Learn more about the tried and true Galloway method when you read more.
Jeff's experiments with mixing walking and running began in 1974, when he first worked with beginners. "If you alternate some running with walking you erase the fatigue. When you take on a goal like the Disney World Marathon or the Princess Half Marathon, it seems like a really arduous type of experience, but with the regular walks the fatigue is erased. You never build up the pain or have to experience the debilitating fatigue. We have had 250,000 use the program to cross finish lines and get the big Mickey Mouse medal."
As a coach, Galloway's goal is not just to help you cross the finish line; he has a higher purpose: "My main mission is to help people improve the quality of their lives through running and walking and just the endorphin experience of moving your body."
Galloway structures his own workouts in terms of minutes rather than miles. The only time he focuses on miles is when training for a marathon, with the goal of getting in a "26-miler two to three weeks before the race." In addition to focusing on time rather than distance, his programs have you running "only every other day so you have 48 hours to recover from the run to decrease burnout and to look forward to getting your endorphins every other day."
His collegiate experience was as much about building endurance as building friendship and camaraderie. Although running is considered a solitary sport, the Galloway method is focused on group support to make the experience "more fun and come alive." Check out Galloway Running to find a group in your area.
Let me know if you've been dreaming about running a half marathon or a full one. I am curious about your endurance goals.