Running Tips For Pregnant Women
Running With a Bun in the Oven
When I became pregnant with my first, it was important to keep up with my healthy lifestyle. Running was always a big part of my exercise routine, so if you were an avid runner who now has a baby on the way, here are some tips for keeping up with your running routine.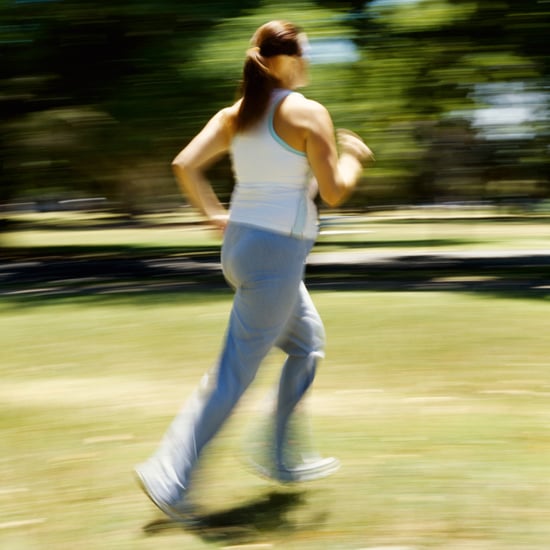 As soon as you find out you're expecting, talk to your OB about continuing with running. Chances are your doc will encourage you to stick with it, but it's always good to be cautious when it comes to your growing baby.
Don't expect to do what you used to do pre-pregnancy. You'll probably need to slow down your pace, take it easy on hills, stick to even terrain to prevent falling, take breaks often, and decrease your distance.
Along the same lines, don't push yourself too hard physically. This is a time to maintain your fitness level, so signing up for your first full marathon isn't the best idea.
Listen to your body from day to day. Throughout your pregnancy, there may be days (or weeks) when you may not be feeling well or energetic enough for a four-mile run, so wogging — doing a combination of jogging and walking — may be a better option. Run (or wog) on days you feel like it, and walk on days you don't.
Your body is going through many changes physically with all the growing and expanding it's doing, so while running, stop if you feel a pull, twinge, pain, or cramp.
For more tips on running while pregnant, keep reading.
Avoid running in high temperatures. When it gets too hot to run outside, run inside in an air-conditioned room. Stay hydrated to prevent overheating.
Stretch after you run to prevent sore muscles and back pain, and to stay limber. Here's a yoga sequence that targets your hips and hamstrings. If your back is bothering you, try this sequence.
Invest in supportive pregnancy fitness clothes. If your chest has expanded a cup size or more, it's worth it to splurge on sports bras that keep your girls in place. Also make sure your clothes are made of comfortable, lightweight material that wicks away moisture. Since your skin may be more sensitive during pregnancy, this will help avoid irritation or a heat rash. Wearing a maternity compression band may also offer support and prevent round ligament pain.
You may soon realize that running on pavement or a treadmill is too intense for your pregnant self. In that case, go for lower-impact alternatives to running such as using an elliptical or deep water running.
Complement your running workouts with strength training. Check out this momma-to-be strength training routine.
Most importantly, don't get frustrated with your running abilities while prego. Remember that your body is hard at work developing your little one, so while you may not be able to run as long or as fast as you used to, after your baby is born, you'll soon be able to get back on the running wagon.