Is It Safe to Eat Potatoes That Have Sprouted?
Sprouting Taters: Eat 'Em or Chuck 'Em?
I am obsessed with sweet potatoes. Steam them, bake them, grill them, or mash them, and I will eat them. When I went to grab a couple to roast in the oven, I was shocked to find that one of my taters had sprouted, and not just tiny little white eyes — there was a full blown plant emerging from the skin. Before cutting into the orange flesh to prepare for dinner I stopped to think— is it safe to eat potatoes that have sprouted this much?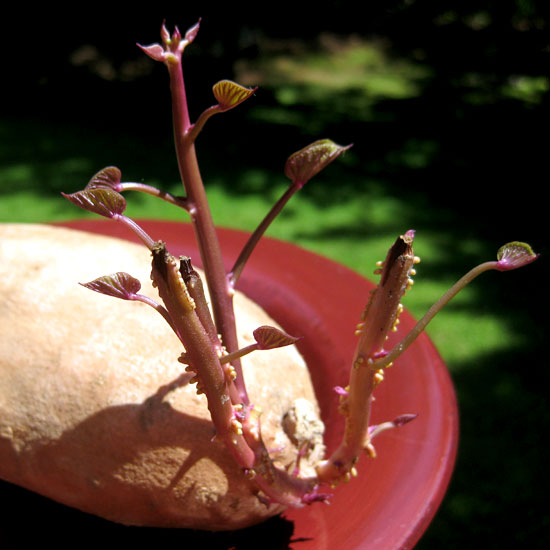 Keep reading to find out if sprouted spuds should be cooked or tossed.
If the potato has sprouted tiny eyes or full-blown stems and leaves, it means that the starch is beginning to convert to sugar, which happens when the veggie has been exposed to moisture or a humid environment. It's not always a bad thing though. If the sprouted spud also has soft and wrinkly flesh, it's an indication that the potato has lost nutrients, so it's best to compost it. If it's still firm, go ahead and enjoy!
If you find potatoes that have a greenish tint on their skin, it means they've had an excessive amount of exposure to sunlight, which causes the formation of solanine. In large doses, this compound is mildly poisonous, so if you eat a lot of the green skin, you can end up with stomach cramps, diarrhea, or vomiting. In general. these potatoes are usually safe to eat as long as they're not soft; just peel away all the green parts and enjoy.
To prevent your potatoes from going green or sprouting, store them in a cool, dry, dark place (not on top of the fridge, like me). Don't rinse them before storing, and place them in a brown paper, burlap, or plastic bag that has holes. Check on your potatoes regularly, getting rid of those that have shriveled.