Salma Hayek Has a Juice Cleanse
Not Another Celebrity Cleanse: Salma Hayek's Cooler Cleanse
You've heard about the Lunch Box Diet; well, now there is the Cooler Cleanse. And this one has some celebrity backing. A veteran of the juice fast cleanse, Salma Hayek has used the regimens for more than a decade to prepare for big events, from walking the red carpet to walking down the aisle. The curvaceous actress paired up with long-time friend and juice master Eric Helms to bring her juice cleanse to the masses. That is, if you live in New York and want to drop $58 a day on fresh-pressed juices.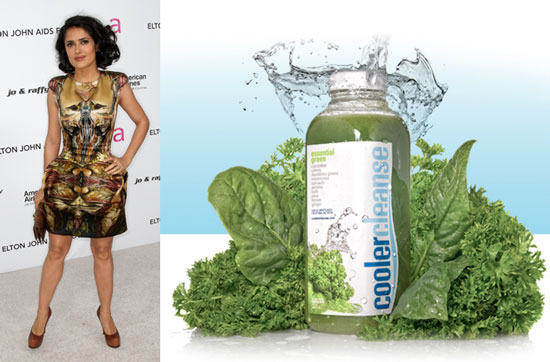 The Cooler Cleanse offers cleanses that last from three to five days, and in FAQ section, the company tells us that "You will consume less than 1,200 calories each day during the 3-Day Cooler Cleanse and the 5-Day Cooler Cleanse." I have always heard that 1,200 is the minimum number of calories required for the body not to go into starvation mode. The five flavors of juices (a green juice, a grapefruit mint, a red juice with beets and apples, young coconut water, and nut milk sweetened with dates), are all freshly pressed overnight and delivered to clients by 6 a.m. Cooler Cleanse also offers a four-course raw food cleanse at $62 a day — you pay a little bit more to have something to sink your teeth into.
Although I am a fan of coconut water and that grapefruit mint mixture sounds tasty, I am not a fan of juice cleanses. But what about you? Would you try Salma's cleanse?